The Shipping Forecast
Susie Stubbs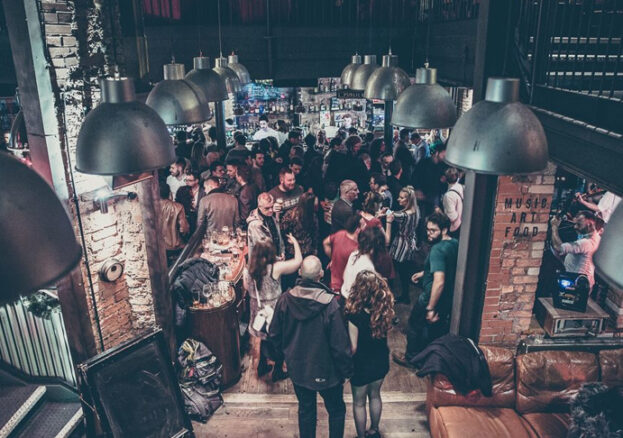 If you're after a Liverpool bar that's unapologetically cool, head to The Shipping Forecast.
This place is, to be frank, one cool mother. A three-storey pub-eatery-club-shop, it's a joint venture between long-running club night Chibuku, design agency Mercy and independent bar operator Five Eight Zero – and it shows. The interiors are a cross between a stripped-back loft apartment and Jack Sparrow's love nest: all vintage furniture, reclaimed school chairs and cosy booths, with the odd giant octopus (stencilled onto the wall) thrown in. The nautical theme extends to the signage – upstairs is "top deck", the basement club "the hold". And at the Shipping Forecast, the lights are low, the bar long and the kitchen open-sided.
Now, this should be a recipe for the type of place that looks upon those over the age of 30 askance. Yet the Shipping Forecast wears its hipness well; it's somewhere you can comfortably hunker down for an afternoon, an evening or a night. Hey, I've taken my kids there and not one person looked at them as if they had two heads. So, the kids are all right.
The menu is as unpretentious as the staff; the restaurant on the ground floor branded "Ruby Jean's Diner" majors on easy American eats. As befitting a venue designed solely for downtime, the weekend menu features Sunday roasts "to shame your mother" and full English breakfasts. While we can't vouch for their quality, we did note that the breakfasts feature enough carbs and fat to bring on a coronary – surely the measure of any decent fry-up. Food is served all day, every day, and while it offers nothing gastronomically exciting, the Shipping Forecast serves up a good line in comfort food. It's an approach that suits the place well.
Eating aside, the Shipping Forecast works hard to keep the punters in and interested. There's a shop up top – Percy Gulliver's print shop – and a club downstairs. Music nights range from disco DJs and live indie to the occasional vinyl record fair. There's even a monthly vintage effort. Late Night Vintage does what it says on the tin: a monthly second hand fair that runs from teatime until 9.30pm on the first Thursday of every month. All in all, then, the Shipping Forecast is where it's at – and you don't even have to know your portside from your starboard to enjoy it.