The Church Inn, Mobberley
Susie Stubbs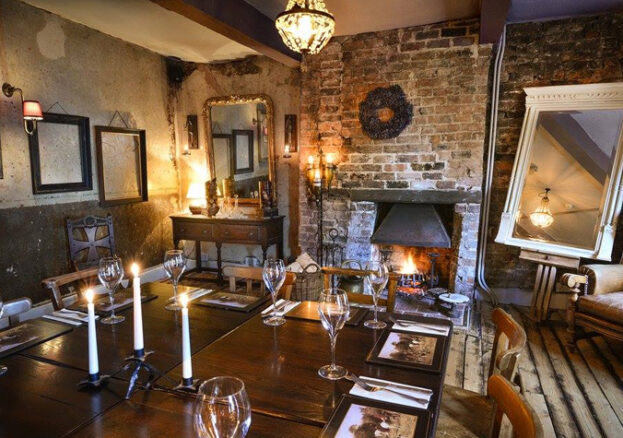 It's a picturesque kind of a pub that serves up good seasonal food. But all is not quite so lovely as would first appear…
Everything looks pretty in the snow. A coating of white turns the world winter wonderland-lovely. And so it was that, driving through the narrow lanes of Knutsford, we came across a pub so prettily dusted with miniature drifts we just had to stop. This was the Church Inn at Mobberley, a historic little boozer just outside Manchester that supplies, if you ask nicely, the map for a four-mile country walk that starts and ends at its doors.
We began our walk in the traditional way: by stopping for lunch. Out of the car we piled, and into the pub we went. Inside we found a roaring fire, notices welcoming dogs, a place to hang coats and a bar liberally stocked with local brews (such as Dunham Massey's Mobberley Best). The Church Inn dates back to the 18th century and its air of history is liberally milked today: candles on tables, low lighting, the furniture a mix of patched and worn tables, dangling pheasants and church paraphernalia reworked as menu boards.
A historic little boozer just outside Manchester that supplies the map for a four-mile country walk
The weekend menu is a mix of brunch, sharing platters, mains and "country tavern favourites". Now, choosing the vegetarian option on this kind of menu can be a gamble. For some chefs, the idea that you won't eat half a cow is equivalent to saying something unforgiveable about their mother and then expecting them not to spit in your soup. And, as a plate of roast beef processed past our table, dripping in gravy, topped by a Yorkshire pudding as big as a comet, I wavered.
But the baked baby pumpkin called to me – and happily, it happened to be rather good. A handful of seared chicory leaves added smoky depth, the accompanying wild rice was nicely spiced, the pumpkin's sweetness slapped around the chops by a soured cream dressing that told it to stop being so cute and grow up. Whoever said tough love doesn't work? And whoever is cheffing it out in the kitchen at the Church Inn likes vegetables. Heck, he or she might even like vegetarians.
Pork and leek sausages with bubble and squeak were a winner, too; their accompanying in-season vegetables part of a local/seasonal approach that The Church Inn is keen to stress. Less successful was the fish. Massive portions of fish and chips clunked their way onto plates and although the menu reckoned the batter was "Apple County Cider", it lost favour as it cooled, ending up tasting of little other than vinegar. The grilled cod, served with buttered veg, mash and salsa verde, was a bit on the bland side, too.
But with flickering candles, snow falling outside and staff so nice I wondered if they'd shipped them in from a parallel universe (you know, the one where there are no wars, poverty, Tories or feral toddlers) – well, it was hard to say anything other than, "this is lovely" when asked how my food was. The fish may well have been an aberration; everyone I know who has been to The Church Inn has nothing bad to say about the place.
After lunch, we tackled a bit of a walk. We made a teeny, tiny snowman. We had a snowball fight. As it turns out, cowpats turn bright white when it snows, the white stuff settling on them in such a way that they stand out, irresistible, looking for all the world like clumps of pristine snow. It was inevitable, of course, that eager, grabbing hands should reach for such snowy pats, and thus we spent the best part of twenty minutes not having a snowball fight so much as hurling lumps of shit at each other – before I wondered why my gloved hands were so grubby. Ah, the sweet joys of the countryside in winter. Told you everything looks pretty in the snow.