After a soggy Christmas we're all more than ready for a breath of fresh air. It has to stop raining sometime (doesn't it?) and when it does you'll be ready with this list of the best parks in Manchester for wintry days out from local writer and parks expert Kath Horwill.
1. Heaton Park. With its spectacular hilltop location four miles north of the city centre, Heaton Park (above) is an ideal place to work off your festive overindulgence. Steep paths mean that attempting even a gentle stroll can have you puffing for breath, but the payoff comes when you reach the top and take in the fantastic views. Two great playgrounds and an animal centre also make for an easy way to keep your kids occupied. With the hills, Heaton Park really comes into its own when the snow falls. And as it has its own Metrolink stop you can take your sledge on the tram.
2, Dunham Massey. For more genteel pursuits, your best bet is the picturesque National Trust estate at Dunham Massey (pictured below). The property boasts Britain's largest winter garden, carefully planned for year-round interest. Subtle sights such as the pearly trunks of silver birches, ghostly skeletons of hydrangeas and dainty purple cyclamen, coupled with the scent of winter honeysuckle, make for a lovely stroll. If gardens aren't your thing (or you don't fancy paying to go in them) march off the mince pies with a bracing walk around the 300 acre deer park. Welly boots at the ready, now…
3. Wythenshawe Park. This is a place that can keep the whole family amused. A large playground and adjacent community farm will delight the young ones, whilst the safari walk and indoor gardens are ideal if the cold gets a bit too much. If you're feeling exceptionally energetic, you can also play crazy golf, pitch-and-putt, and tennis here. Otherwise, just meander around the extensive meadows and woodland.
4. Bramall Hall and Park Heading further south to Stockport, Bramall Hall offers a lot in a fairly compact space. The black and white timber-framed hall is surrounded by hilly grounds and woodland. You can head down the bank towards the lake for some duck feeding, before crossing the bridge and exploring the woods and stream. If it starts to rain, shelter under the trees or, if you time it right, pay to take a guided tour of the historic hall. There are also tearooms and a toddler playground.
5. Tatton Park If you want a park you can spend a whole day at, Tatton in nearby Cheshire is hard to beat. There are 50 acres of gardens, stunning whatever the season, from the zen-like Japanese Garden to an African Hut and Show House (the latter handy if the heavens open). The mansion is also open for tours, while the farm is open at weekends. If you don't fancy paying for all this (the mansion and gardens are free to National Trust members), let the kids loose on the adventure playground and then explore the thousand-acre park. Stick your wellies on and squelch your way through the mud and the orange leafy mulch on the Beech Walk – you may well see some deer and, if not, you'll definitely get some lovely views across the mere.
And also bear in mind... The parks above are well known and popular places at weekends. If you're still recovering from oversocialising at the holidays, or if you're just one of those misanthropic types who likes your space, you might want to take a gander at Kath's list of the best secret gardens in Manchester.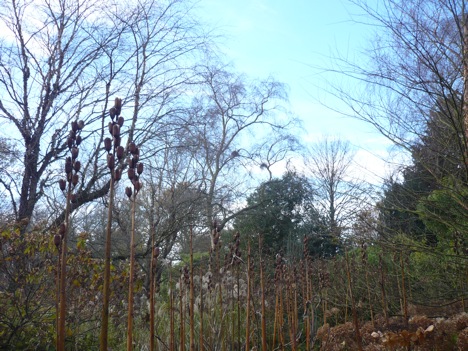 Kath Horwill writes about Manchester's parks and gardens on the Parklover blog. Images:  Heaton Park, top, and Dunham Massey, Kath Horwill.