The Botanist
Polly Checkland Harding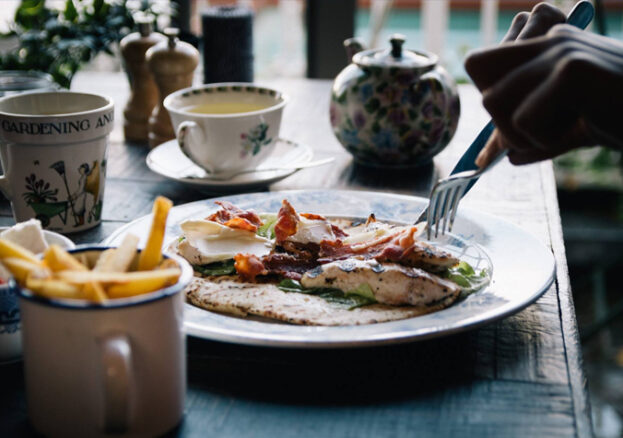 The Botanist on Deansgate does good food, botanical cocktails and intense décor with aplomb.
There's something about botanical cocktails. They sit in the spot between the citrus and wood smoke of bourbons, and sweet, tarty fruit mixes. They cleanse instead of cloying – they are, in short, a relief.
The Botanist is part of the Living Ventures empire; it's within a two minute swagger of The Alchemist, Australasia and Oast House, all also part of the family. What, then, sets it apart? The décor? The food?
The Botanist does tout many of the Living Venture staples. Complex cocktails at Spinningfields prices: tick. Hand-illustrated beer almanac: tick. Beautiful waitstaff, with Barbie eyes and/or shirtsleeves stretched over bubble muscles… tick. It's all very slick and self-satisfied – which is not to say that it doesn't try hard. Very hard. The whole thing is impressively attentive, with serious detail when it comes to the décor. The Botanist is one of Living Venture's most heavily themed locations; it has three areas, each with a distinct aesthetic. Spilling out onto the pavement out front is the conservatory, with white chairs, metal tables and plant volcanoes arranged across its paved floor. With its upright piano and spacious, patterned floor, the central section has a plantation dance hall feel, while the bit out the back is laden with upturned planters and garden equipment.
Thyme, basil, chive, sorrel and sage feature elsewhere on the drinks list, a regular window box of botanicals
Surrounded by nods towards fields and greenhouses, it seems a little bit of a shame that the ingredients aren't locally sourced. The restaurant's turnover is just too big for home grown goods, we were told, although it apparently has an eye on converting the building's roof. What it does with the stuff once on site, however, did prove surprisingly good. After the rather tepid meal we had at Oast House, whose menu is sketched out in much the same style, our fancy Scotch egg and the salt and pepper onion curls with sour cream were wonderfully rich and inviting. Both restaurants have a thing for skewers – we avoided them and went instead for the lamb tagine, and a deli board with pearl couscous, houmous, four bean salad, flatbread, and roasted red and yellow peppers. Nothing lacked in flavour, and where one dish was ideal for pick n' mixing, the other was a warm hug of culinary luxury.
Cucumber, perhaps one of the most underrated flavours, was the belle of one mocktail fizz, flattered by a dark twist of rosemary. The violet and jasmine crush, however, had a slightly soapy aftertaste – violet, my friends, is not a shrinking flavour. Thyme, basil, chive, sorrel and sage feature elsewhere on the drinks list – a regular window box of botanicals, in fact, which is actually the thing that gives The Botanist its own, distinctive appeal. It's not that other places don't do these drinks – this is, in fact, the most elaborate chain restaurant we've come across, with branches in Alderley Edge, Chester and Leeds. But it is a herbal mecca in Manchester which, once properly up and running, will feature live music seven nights a week. Go for excellent perennials – and hope that, with time, the staff stop putting Vaseline on their teeth and relax a bit.
This is an independent review, but our writer didn't pay for her meal. For more info on our editorial policy, read our About page.