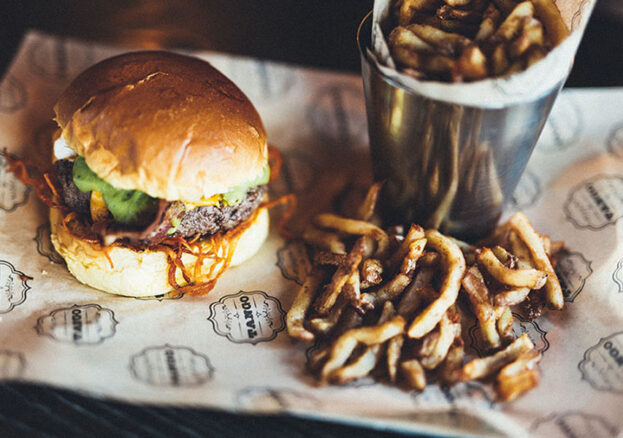 Tango is an independent restaurant that provides the best in comfort food with a modern flavour.Walking down from central Durham and crossing into Elvet, you will no doubt enjoy the historic surroundings of the city. Built into Old Elvet Bridge, with the building having served as the bridge house for collecting tolls on entering Durham and parts of the building dating back to the middle ages as a Chapel, Tango already has a great deal of character in just its bricks and mortar.
The flavours that Tango have developed for their menus take inspiration from around the world but with a particular focus on middle eastern food, as well as British and Western favourites. This can be seen in their burgers that take inspiration from all the best tried-and-tested burger recipes to provide the best mouth-watering experience for you when you visit; with examples being the Diablo (two beef patties, jalapeno, spicy sausage, and devilled onions) gives you the spicy American flavours while the Van Man (beef patties, American cheese, soft grilled onions, bacon, hash brown and burger sauce) take its inspiration from British comfort food.
Tango also make their own deserts in-house, with a promise that they will be a mouth-watering experience that you will not forget. Their ingredients are all locally sourced and are as fresh as the day they were picked, so you will get the taste of County Durham when you eat there. All the food is made on site by their team. The Tango team also include trained mixologists who can produce you fresh and innovative cocktails for you to enjoy within the restaurant or in the outdoor seating during summer. Its not just cocktails though, their skilled baristas can make you up a coffee or you can enjoy a beer depending on your mood and the time of day – all inspired by the Tango teams travels across the world.