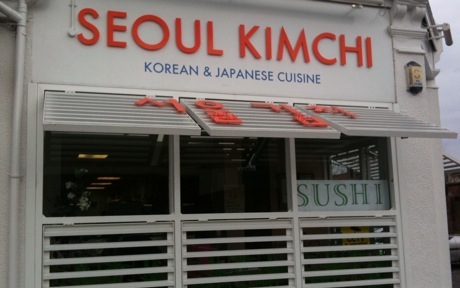 Kate is wowed by the Korean home cooking at Manchester restaurant Seoul Kimchi
As great culinary thoroughfares go, Upper Brook Street is no Champs Élyssées. It's a workaday road down the back of the hospital that connects Rusholme and the University quarter with the city centre. But you can eat surprisingly well there. There's Tai Pan, the cavernous restaurant connected to the Chinese supermarket of the same name, where dim sum-loving Mancs get their fix. There's the Good Food Guide-listed Gabriel's Kitchen, the cafe opened by Peter Booth of the Whitworth's much-loved Gallery Cafe. And now there's Seoul Kimchi, a welcoming little place serving up Korean home cooking.
It's in a storefront that looks a bit like a grocery because … well, it's a grocery. In 2005, Byunghee Kwon, who had come to Manchester as a student several years before, opened a shop catering to the city's Korean expat community. The groceries did well, but her sideline in takeaway lunches really took off.
"We sold 30,000 lunchboxes," the small, energetic woman recalled with a slight air of disbelief. "My customers asked again and again for a place to sit. So I promised them three tables." Last September, Kwon finally consigned the groceries to some cunningly organised high shelves and moved in those three tables, plus a short bar.
The restaurant – which feels more like a diner – fills up quickly, and though the decor is pretty basic it's bright and cheerful. All of the food is made in the tiny open-air kitchen by Korean cooks using fresh ingredients, including the kimchee – a potent mixture of pickled cabbage and spring onions and spices that is to Koreans what HP Sauce is to Britons.
If you're completely new to Korean food, a good place to start is Beef Bulgogi, a barbecued beef dish that's a national favourite. SK's version is very tasty indeed – grilled meat, mushrooms and onions in a marinade rich with soy and ginger. It comes with rice, miso soup and kimchee; a big meal for the princely sum of £6.50.
And there's plenty here for vegetarians, like the japchae (£4.50) – a savoury tangle of rice noodles and delicately stir-fried veg. The gyoza (£3.20-£3.80), homemade pan-fried dumplings with different fillings, are downright addictive. Other choices include Bibimbap (a big rice bowl stuffed with meat, seafood or vegetables); noodle dishes and stews; sushi and a variety of appealing bento boxes.
The future looks pretty bright for Seoul Kimchi. Its proximity to the hospital and university ensure a good customer base, and the fact that it is delicious and wallet-friendly has to appeal to the hordes of students living in the neighbourhood. Every time I've visited the place has been busy, with all seats taken and a steady stream of people coming in to pick up takeaways. It may not be long before Kwon has to come up with more than three tables.