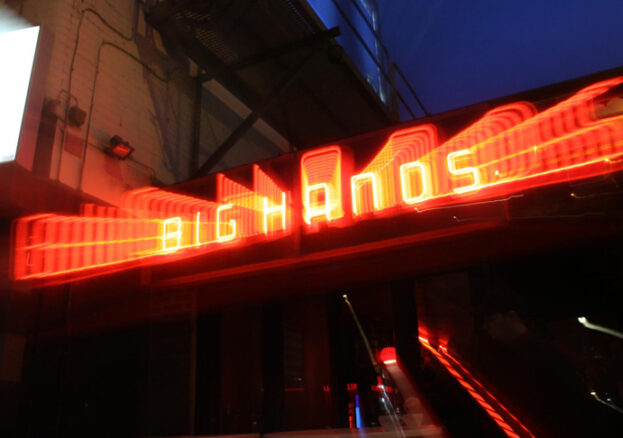 To anyone who has endured the monotonous journey along Manchester's Oxford Road, or attended an Academy gig, Big Hands will look familiar. For those who haven't: a red neon sign announces the entrance to this narrow drinking hole, which is squeezed between a tiny florist and a kebab shop. Get past the smokers around the tall tables out front and, once inside, you'll escape the incessant screeching of car tires upon tarmac. Instead, you could be half the world away in an American rock 'n' roll saloon.
Despite its narrow frontage, the bar continues quite a distance; long enough for a line of drinkers to sit spaciously along its length. Although, you may struggle for a stool on busier weekends (or even a coaster's width to rest your pint glass on, come to that). A glance around the interior reveals dim lighting, spinning ceiling fans and dated 1960s/70s furniture. It's like something out of an Hunter S. Thompson novel.
They take their music as seriously as they take their alcohol in this place
Big Hands boasts an international who's who of lager, ale, pilsner and cider on tap, with dark spirits arranged on the shelves behind the bar. Decidedly kitsch trinkets are sporadically placed between bottles draped with twinkling fairy lights, completing the fairground-esque decoration. There's also an Italian coffee machine if you happen to be the designated driver.
Once sat in a booth or armchair, can you begin to appreciate the Big Hands ambience. It's all wonderfully nonchalant, with cracked leather seats and a backdrop of peeling blood-red paint. Facing the bar is an original and fully-functioning jukebox; they take their music as seriously as they do their alcohol in this place. It's there in the name Big Hands, a reference to the lyrics of Blister in the Sun, by cult American band Violent Femmes: "big hands I know you're the one". It's no surprise, then, that after an evening's performance at the Academy, musicians such as Julian Casablancas and Alexisonfire have been found propping up the bar next to the more regular patrons, who include Elbow frontman and Big Hand's legend, Guy Garvey.
So, the next time you venture down Oxford Road for a gig, rather than queue outside the Academy like some star-struck teenager, go ahead to Big Hands – its grungy aesthetic is the perfect prelude.