Rudy's Didsbury
Anne-Marie Pattenden, Food & Drink Writer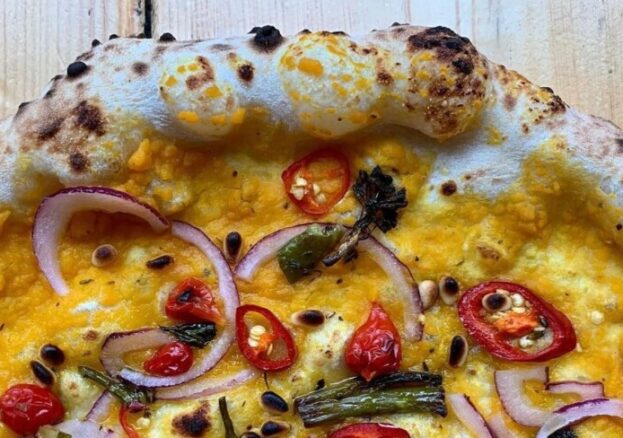 In 2022, Rudy's opened yet another eatery, this time on Didsbury high street, and it's a great addition. The new place is light, airy and spacious. Naturally, the pizza oven takes centre stage – it's visible from the street. As ever, the specials board has tantalising offerings alongside the standard menu.
To ensure there's room for dessert, we start with salads. The heftier of the two features a whole, oozy burrata and slices of the restaurant's own house-baked bread. The other is a light and flavourful rocket and Parmesan salad, spruced up with tangy sunblush tomatoes and a lovely balsamic honey vinaigrette. It's worth noting (and appreciating) that the chefs take the time to blanch the slivers of red onion included in this dish, to eliminate any raw edge and round the flavours.
Naturally, the pizza oven takes centre stage
Next, the reason we are here: the pizzas. Both have fantastically light, crisp, charred yet chewy bases. A real feat of pizza engineering. The toppings almost don't matter as any selection is practically guaranteed delicious when this is your starting point. In this instance, we opt for the classic Portobello and more unusual Porchetta toppings.
The Portobello has a San Marzano tomato sauce richly flavoured with garlic oil, basil, and oregano; crowned with fior de latte, sweet and nutty portobello mushrooms, and a sprinkle of parmesan for good measure. The Porchetta is a smoky delight: a white pizza lavishly topped with fior de latte and smoked mozzarella, roast porchetta, sage roasted potatoes and caramelised onions. This one feels more wintry and makes for a great Sunday dinner alternative on a cold, wet afternoon.
A great Sunday dinner alternative on a cold, wet afternoon
Thankfully the charming front-of-house staff are happy to box up a couple of slices for another day, which allows us to sample the fabulous tiramisu. It's a generous portion of the time-honoured classic. Savoiardi biscuits soaked in espresso and amaretto liqueur are layered with lighter-than-air whipped vanilla mascarpone, heavily dusted with cocoa then given the Rudy's touch with amaretti crumbled on top.
This Didsbury venue brings all the best Rudy's has to offer. A menu of well-executed favourites plus a few exciting wildcard options, a respectable wine list, and excellent service all combine to make for a surefire hit on Wilmslow Road.