Rocket & Ruby
Stephanie Heneghan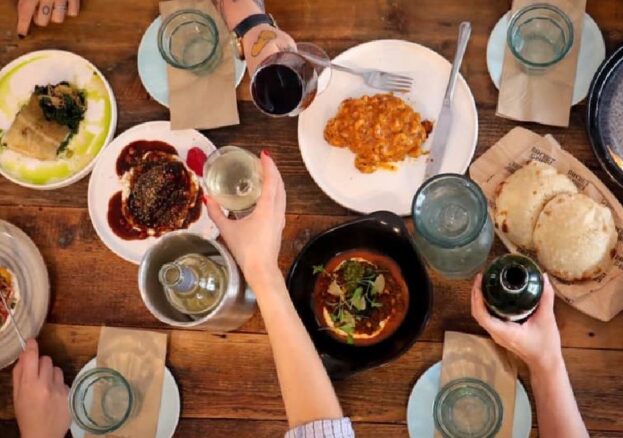 Rocket & Ruby began in Liverpool's Baltic Market, where they honed their craft before moving into the former Cheese & Co. venue on the corner of Lord Street and Castle Street. A fun fact, before Cheese & Co it was a recruitment agency and I once aced a typing test in there with a score of 105wpm. Boom.
Anyway, moving on from my failed career as a legal secretary (audio typing is super dull, pass it on) and back to a much more exciting topic of the new AW19 menu launch at Rocket & Ruby. In addition to being a great place for a payday lunch treat, the new dishes move it up a notch into dinner date territory.
Utilising that newest of inventions – the medium-sized sharing plate – we were advised to choose two dishes each. Tell you what the minute you think you've got the hang of tapas-esque dining they move the goalposts don't they, this is the 3rd venue I've been to recently with medium-sized plates. But never mind the size of the portions, let's get to the important stuff. How did they taste?
I opted for the roasted cod with green butter, kale, preserved lemon and garlic, and the chargrilled 'flat iron' steak with rocket, chimichurri and straw fries. A mix of protein, carbs, and veg – I believe this is the "macros" my PT is always telling me about. I'm sure she'd have been pleased with my choices.
The cod was delicious, crispy and light with a gorgeous accompaniment of garlic heavy (not a bad thing) kale. I know kale is meant to be a healthy alternative but I prefer mine with a lot of butter and garlic on so I think that negates any benefits.
But, what I really want to talk to you about is the steak. We're not good at steak in Liverpool, there's only one place I rate for a decent cut (Cowshed at the top of Seel Street). Other steaks on offer in the city tend to be hugely overpriced and (not) well done. Where steak is concerned I am a medium-rare or nothing type of girl.
Well, I am pleased to inform that this flat iron steak was perfectly cooked and also reasonably priced (£8.95). Paired with the straw fries and chimichurri, it was a delight to eat – a well seasoned lovely cut of meat. I am salivating as I type this, there's a lovely image for you.
Dessert was slightly disappointing, as the meringue with ginger & nut crumble was very light on the actual meringue and crumble, and very heavy on the cream. However never to be disheartened I tried some of my neighbouring diner's pistachio tart and that redeemed proceedings. Also, an extra special mention goes out to the lemon drop bellini; instant refreshment in a glass – I should know, I had 3 and I felt great afterwards.