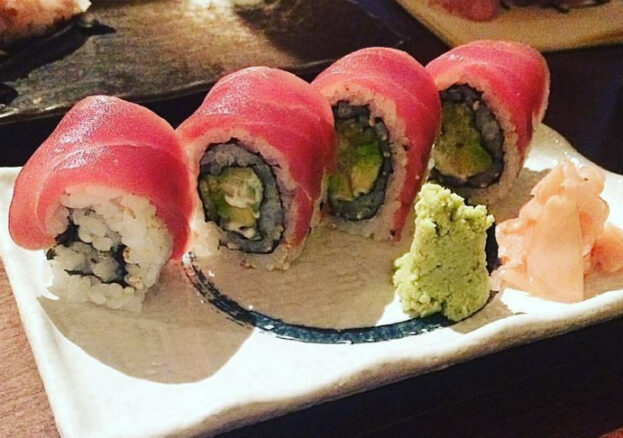 The Scouse city's favourite Japanese restaurant serves up artfully prepared sushi – without the unnecessary Twitter fanfare.
Dining out in a city the size of Liverpool, it can often feel as though you're continually visiting the same places. If you want a decent Chinese meal, you go to Yuet Ben; if you're in the mood for fine dining, you go to 60 Hope Street; if you want a burger, you go to… well, pretty much anywhere really. But what if you're in the mood for a gigantic bowl of noodles and can't face Wagamama? Then you go to Etsu.
Etsu is the very definition of a hidden gem, one of those restaurants so unobtrusive that you could easily walk past it every day without ever knowing that it's there. Smuggled away in Beecham Plaza behind The Strand, it has been quietly endeavouring to serve authentic Japanese food to the people of Liverpool since 2007. And, judging by the fact that it's been packed to the rafters whenever we've visited, the locals must reckon it's succeeding. The menu here runs the full gamut of Japanese cuisine – from crunchy, tangy Katsu curries to slurpy bowls of Udon soup noodles (in our opinion, the most comforting of all comfort foods). However, we're particularly fond of their bento boxes, which offer make for a good light lunch. Last time we visited, I feasted like a queen upon a maguro box full of firm, fresh tuna, a pleasingly tart ponzu sauce and plenty of sticky white rice. Just the thing for those days when the idea of a Gregg's Steak Bake has lost its allure.
And, of course, being a Japanese restaurant, there's sushi – a vast array of it, all freshly and artfully prepared. We recommend going for the mixed sashimi platter – at £9.50 for ten pieces of top quality seafood (and a rather hefty dollop of wasabi), this is an absolute bargain. If you prefer your seafood products to come fried, try the soft shell crabs. While it can be a tricky dish to get right (at a rather fashionable ramen restaurant in London recently, I bit into one only for a geyser of hot oil to scald the inside of my mouth, putting my taste buds out of action for the rest of the meal), here, the shell crabs are a delight. Moreish and the perfect vehicle to scoop up mounds of spicy-sharp kimchi mayonnaise.
At the moment it feels as though every restaurant is jumping on Twitter to aggressively self-promote. A particular bugbear is the habit of re-Tweeting every single piece of praise that's thrown in any given restaurant's way (let's not name the establishment that once re-Tweeted someone merely mentioning that they'd walked past it on the way to work). Consequently, it's nice to find a restaurant making consistently good food without the need for fuss or fanfare. Etsu may very well be Liverpool's most precious hidden gem but let's just keep it our secret, OK?