R&H Fine Wines
Christina McDermott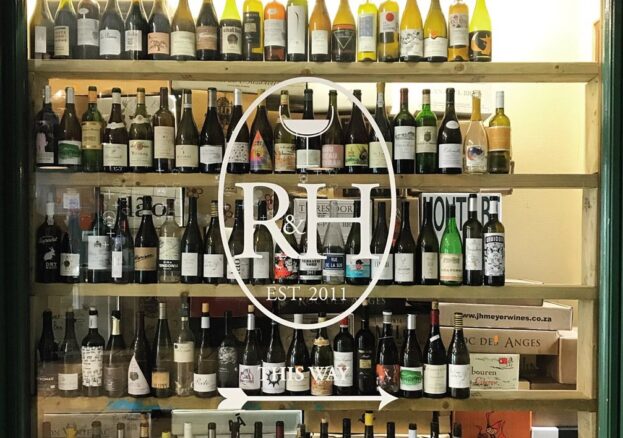 Fancy a bottle of banker-baiting Fat Pig? Head to Liverpool shop R&H for unusually fine wines.
Wine: drinking it is great fun, purchasing it is another thing altogether. Like cooking souffles, solving mathematical equations or covering Beatles songs, knowing what plonk to plump for is a difficult skill to master. If we had a quid for every bottle of disappointing supermarket wine we've sunk in our time, we'd probably have enough dough to stock up on vintage Châteauneuf-du-Pape. But we cannot drink Jacob's Creek from the local offy alone.
Liverpool isn't short of delis where you can pick up something decent, but we haven't had a proper wine merchant in the city centre since Oddbin's upped sticks from Bold Street. So, we were overjoyed to learn about the existence of R&H Fine Wines.
Nestled in a cosy little corner of the splendid (and splendidly hidden) Queen's Avenue, what R&H lacks in size, it makes up for in character. Owner Devin Stewart prides himself on first-hand knowledge of everything he stocks. Stewart knows what will work perfectly for every budget and occasion – whether it's cooking a curry for friends or a night spent box-setting Breaking Bad on the sofa (this comes from experience – we've tested him). It's this personal touch that makes coming here such a uniquely enjoyable experience. Unlike some wine retailers we've been to, you'll never be patronised or upsold more than you need. If anything, it's like wandering into the home of an immensely knowledgeable friend. Come for a simple bottle of Shiraz and you might end up involved in a heated discussion about Liverpool FC's prospects in Europe.
And because R&H's wines come from independent producers, there's usually a fantastic story behind the label. We're particularly fond of the banker-baiting Fat Pig, a deliciously punchy red whose artwork features a crude drawing of a pig's head. It's a fond tribute to the financiers who refused the wine's makers a bank loan to get their vineyard off the ground. R&H is also the one wine store in the city where the majority of the stock is from organic, biodynamic sources, giving you a more ethical (and arguably tastier) tipple. But our favourite thing about R&H is that it's the only retailer we've found that sells practically everything we need to indulge in our new favourite drink, the delicious – and suddenly quite fashionable – Aperol Spritz. You might not find fresh oranges on sale, but Stewart would probably order some in if you asked nicely enough.
It's stores like R&H Fine Wines that make Liverpool's independent sector so great. And, OK, it might be more expensive than grabbing a £5 bottle of rosé from your local Tesco, but you're getting so much more for your money. The store is also collaborating with another, much loved Scouse independent – the Liverpool Cheese Company – on a regular wine and cheese night, which is sure to be a real treat for the taste buds. So, the next time you're near Castle Street, take a detour down Queen's Avenue, duck into R&H and pick up a bottle of something wonderful. Jacob's Creek won't feel like an option again.