Bacaro restaurant
Christina McDermott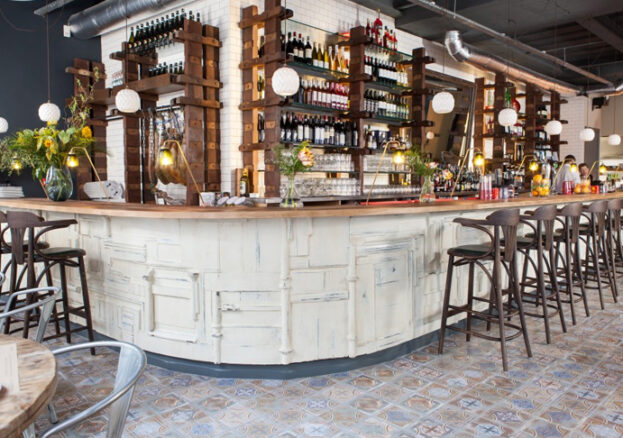 Amid a trend for over-hyped restaurant launches, Mediterranean newcomer Bacaro stole quietly onto the scene.
In this era of rockstar restaurateurs, where it's almost impossible for an eatery to open without a soft launch, a bloggers' banquet and a Twitter spat, it seems alien when a new place launches with relatively little fanfare. Even more so when you find out it happened in Liverpool – where flash always equals cash. Perhaps we were snoozing when Bacaro – the newest establishment from the people behind the excellent Salt House Tapas – opened with nary anything but a tweet announcing its entrance into the world. However, when we visited on what was a surprisingly quiet Easter Saturday, it was the one place doing a roaring trade.
Whereas Salt House Tapas focuses on all things Spanish, here the focus is a little further along the Mediterranean (namely Italy and its small plates cichetti culture). Happily for us, this also means there's yet another place in the city where you can gleefully order everything off the menu without fear of bankruptcy – or cardiac arrest. In keeping with its elegant Castle Street location, the space itself is stylish without being showy; full of soft mood lighting, wooden panelling, intimate booths and a Campari bar that would be the envy of any Italian stallion. We're a firm believer that there are few things better in life than a well-mixed Aperol Spritz, and we're pleased to say that Bacaro's more than adequately wet our whistle.
It's almost impossible for an eatery to open now without a soft launch, bloggers' banquet and Twitter spat
It's difficult to order in a place like this without ending up feeling like Mr Creosote, but we were impressed by the majority of our many dishes. A board of Copa de Parma ham, bresaola & fennel salami (£5.95) featured beautiful cuts of meat, so finely sliced that they practically melted on the tongue. A basket of rosemary and garlic foccacia (£2.95) was delicious without being overwhelming. Punchy and fragrant, it was the perfect thing to mop up a tangy bowl of olive oil and balsamic vinegar. We also loved our Carbonara Pizzette (£4.95). Topped with a wonderfully runny fried egg, it was the perfect combination of meat, cheese and carbs. Our only regret was that it wasn't bigger; after scoffing the lot, we seriously contemplated getting another.
While we were sure we'd tried the fritto misto (£6.95) before, at Salt House Tapas, we never turn down fried fish – particularly when cooked as skilfully as this. We tried to share the bowl of fried calamari, mussels and scallops with our companion, but before we knew it, we'd eaten the entire thing in a glorious mini orgy of gluttony. Saying that, they didn't complain: they were too busy with a bowl of pork & fennel meatballs in a rich tomato sauce (£5.50). Despite their small size, these fellas pack a punch – as rich and overwhelming as an Italian Formula One driver. But the highlight of the entire meal came in the form of an affogato (£4.95); a dessert of espresso, Cheshire Farm vanilla ice cream and amaretto, which combine to form a truly divine coffee milkshake. It works both as a pudding and an after dinner pick-me-up.
Sadly though, there were a few misses. It's always difficult to make cauliflower cheese exciting and Bacaro's offering, served with a herb crumb (£4.95) did miss the mark. A chicken, parma ham & sage saltimbocca with apple (£5.50) didn't quite work either – the accompanying large apple slices jarred and jangled against the classic combination of chicken and bacon. The biggest disappointment of the night, however, was a Buttermilk panna cotta with amaretto cherries (£4.95), a concoction that tasted as beige as it looked. The few, cursory, booze-soaked cherries couldn't save this bland excuse for a dessert.
Bacaro may have flaws (we could have done with a bit more attention from our waitress), but we reckon these are merely teething problems. This looks set to be another favourite in Liverpool. Saluté.