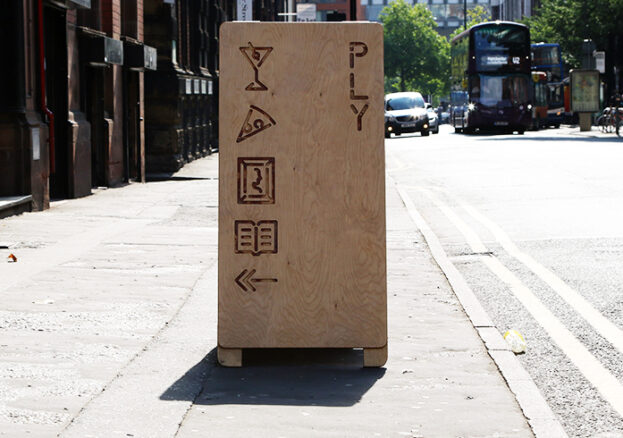 Ply's a cool place… and why wouldn't it be? It's in the Northern Quarter, an area my mother calls the 'snazziest part of the city' and it's just off Stevenson Square, a hipster-infused melting pot of bars and cafes built around an inexplicably oversized bus stop. The area's full of cool people and the cooler ones shuffle into Ply when they've finished doing a cigarette or an ollie on their skateboard.
An area my mother calls the 'snazziest part of the city'
Ply's cocktail menu is full swing after launching in late June with a range of intricate and colourful tipples, all lovingly designed to accompany the unique pizzas available at Manchester's favourite monosyllabic dough dealer. Ply does big, swollen, fluffy, Neapolitan-style pizzas finished with some pretty radical toppings, such as pear and blue cheese and sausage and broccoli. They're great.
Much like its customers, Ply's new cocktails come in all shapes and sizes and they smell wonderfully unique too. Many of the combinations feature beautiful, summer infusions powered by the kind of punchy fruits and flowers you wouldn't expect to find in an alcoholic drink. Indeed, you'd be forgiven for thinking rosemary, lavender, walnut and jasmine were actually a group of bloggers talking about single-use wet wipes in the corner.
There's the Pantone 311, with rum, blue, orange, mango, lime and fizz. It's a sharp and vibrant delight, with a satisfyingly sweet finish. The Vitamin Bee sounds like an arbitrary Manc love-in, but there's more to it than that and it's actually very good, with a blend of gin, prosecco, bergamot, honey, lemon and pollen making all the wasps in the city jealous.
The Vitamin Bee sounds like an arbitrary Manc love-in, but it's actually very good
Tiki Ain't dead (It's Just Been Sleepin') blends rum, pineapple butter, cherry, salt, porter treacle and fudge together to create another sweet cocktail with a nice burnt twist and there's another gem called Boats on the Lake, which mixes gin with apple to great effect.
The stand-out cocktail takes inspiration from Didsbury's favourite botanical garden and nabs its name in the process. Fletcher Moss utilises a gin base and combines vermouth, lemon and jasmine, finishing with a sensual sprig of lavender to arouse the nasals. It's not quite as good as the actual Fletcher Moss, but it's still a very, very good cocktail and well worth the modest £7.50. The artistry in this new menu is quite impressive.
With a batch of new wines and beers brought in to bolster an already impressive bar, this is a place for the positively parched. But it's super cool too and the pizzas are rad, so if you're catching up with Jasmine and Walnut after a long day editing YouTube videos, Ply is the place for you.