Oriel Chambers
Alex Croll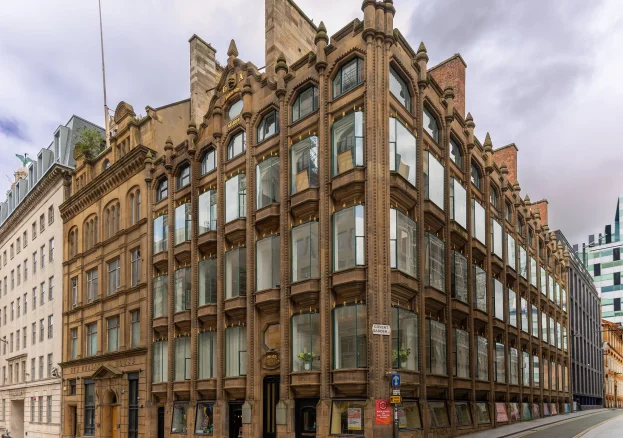 Oriel Chambers lies nestled between the grandeur of Water Street's two other famous residents – Liverpool Town Hall and the Liver Building. Sit on the steps of the India Buildings opposite and admire this Grade I-listed wonder, controversial when it was first built, but described by art and history scholar Nikolaus Pevsner as "one of the most remarkable buildings of its time in Europe."
The protruding cellular windows from which Oriel Chambers takes its name (oriel being the term for the bay windows that are lined up along Oriel Chambers' front) seem like an attempt by the building to crawl out from of the shadows cast by its towering neighbours – and, in a way, they do just that. The lightness and delicacy of Oriel Chambers' glassy façade sets it apart from the heavy classicism that surrounds it.
Designed by Peter Ellis in 1864, Oriel Chambers is one of only two known works by the architect, along with nearby 16 Cook Street. Mocked by his contemporaries for his rejection of Liverpool's favoured Gothic style, and humiliated in the press, Ellis is thought to have put down his pencil and prematurely ended his career as an architect following their completion – although he may have had involvement in other projects, there was no further recognition of his work.
Oriel Chambers has since been recognised as the pioneering piece of architecture that it really is. The first modern office building, and arguably the precursor to the skyscraper, its revolutionary cast-iron frame allowed for large expanses of glass to be used on the façades, putting an end to dingy work spaces. Whilst it failed to be an immediate influence on the Liverpool architectural scene, theories suggest that one of Chicago's proto-modernist champions, John Wellborn Root, a student in Liverpool at the time of their construction, took news of Ellis'work back across the Atlantic with him, informing the buildings he would design some twenty years later.
Atop the building a motto reads "stand sure"– and Oriel Chambers has done just that. Faced with harsh criticism from the outset, as well as being another of Liverpool's Blitz casualties, the building has suffered some hardships in its lifetime. Still in use today as was originally intended 150 years ago, it must be said that Ellis got something right.