Ma Boyle's Alehouse and Eatery
Stephanie Heneghan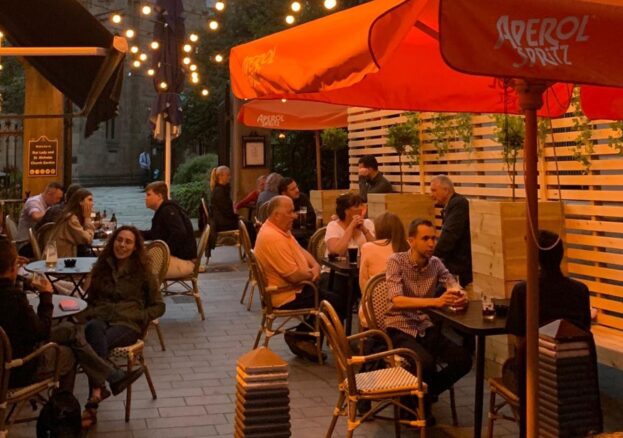 Ma Boyle's Alehouse and Eatery is an institution in Liverpool. Nestled down a side street in the business district (and a literal stone's throw from the Liver Buildings) it's long been a firm favourite for after-work drinks or a cheeky pub lunch on payday. Does a good quiz night too.
Recently they've spruced up the outdoor seating area (for reasons that are surely apparent) and we thought we'd pay a visit and see how they were getting on. Also, it was a very sunny evening and we didn't fancy cooking.
The menu is great, lots of traditional "pub grub" but also loads of options for vegans and gluten-free. We started with some delicious garlic ciabatta and honey and sriracha chicken wings. The wings were sticky and not too sweet, with a lovely kick from the spices.
A firm favourite for after-work drinks or a cheeky pub lunch on payday
Our mains were chicken fricassee with sauteed potatoes – excellent – and then fish and chips. Good old fish and chips.
Let's talk more about chips because in a world of small plates and new ideas, sometimes the classics get forgotten. And there's nothing more joyful than a plate of properly good chips. The chips at Ma Boyle's Alehouse and Eatery are "twice-cooked, thick-cut, skin-on chips". They were the best chips I've eaten in a long time. Perfectly cooked, a little crispy, the right amount of fluffiness. Reader, I ordered a second helping. Ate them all.
It's nice to have reliable comfort food, isn't it? The casualness of sitting outside in the sunshine, eating chips and drinking wine with friends is such a balm for the soul and don't we all need a bit of that in our lives right now.
It's always fun to get dressed up and go to posh places but equally finding a good pub, with friendly staff and decent food needs to be celebrated too. Let's all go and sit in the sun and eat chips with our mates this summer.