Miller & Carter Steakhouse, Manchester
Kate Feld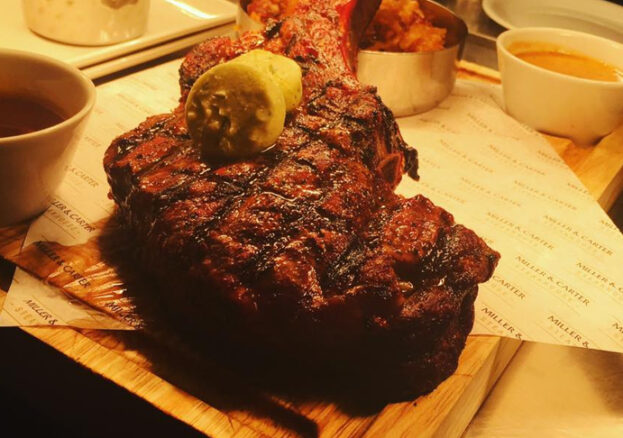 Miller & Carter Steakhouse brings its traditional steak and sides to Manchester's King Street – but does it measure up?
There is about the steakhouse that air of the boys' club. You expect to walk in and see jowly titans of industry doing deals and knocking back Manhattans. Or rich older men and their young "friends" canoodling over T-bones. What, just me? The steakhouse is an institution as American as mutually-assured destruction. With origins in early 1900's New York political fundraisers known as "beefsteaks", where women and utensils were barred, by the 1950s it came to define the dining out experience. And, after decades in the catering industry hinterland, steakhouses suddenly look attractive to UK restaurateurs frantically casting about for another US comfort food shtick to milk for profit.
I love steak almost as much as I love uncool, prehistorically outdated restaurant concepts – so I was interested when I heard Miller & Carter was opening on King Street. The steakhouse runs 30 locations around the country. Having just had a great experience at Côte, I was ready to completely rescind my long-held distaste for big catering chains. But while my experience at Miller & Carter wasn't bad, it's not going to send me rushing back to eat there.
Steakhouses suddenly look attractive to restaurateurs casting about for another US comfort food shtick
The décor sets you up for disappointment. Instead of playing up the Mad Men-style retro romance of the steakhouse, they went for identikit hotel restaurant with feature lighting and Jamiroquai on tinny speakers. The menu's got a big selection of starters and sides, all leaning slightly to the naff side of traditional in their constitution. Starter-wise, the calamari was fine. Scallops were accurately cooked, but the unimaginative mango salsa and pancetta alongside didn't bring much to the party.
There's little choice on the liquor front; a surprise as I associate steakhouses with cocktails and whiskeys. I couldn't fault my Dark and Stormy, however, and my friend liked her Pinot Grigio all right. The steaks themselves, all 28 day-aged British beef, were perfectly good – a porterhouse and a fillet cooked the way we'd requested. They do things the old fashioned way here, as each steak comes with baked potato or chips, that steakhouse mainstay of a wedge of iceberg lettuce topped with your choice of dressing (blue cheese is the classic choice) and their "special onion loaf." The latter's not that special – claggy and wet, like a sad gang of failed onion rings banded together for safety.
We tried a couple of sides. The lobster tail was dry and chewy, like it had been reheated. My friend's mac and cheese was a bodged-up thing, in which the mac and the cheese never really got to know each other. We didn't try dessert – those two big steaks defeated us – but they look to have a decent selection of sweets. For this meal the bill topped £80, which seemed a bit steep given that we'd had one drink each and no pudding. All in all, it's one to try if you're passionately fond of steak, want to take your dad out for dinner, or have a vegetarian friend you're angry at. But if atmosphere and value are what matter the most to you, steer clear. See what I did there? Steer… oh, never mind.
This is an independent review, but our writer didn't pay for her meal. For more info on our editorial policy, read our About page.