Rapha Clubhouse Manchester
Sara Jaspan, Exhibitions Editor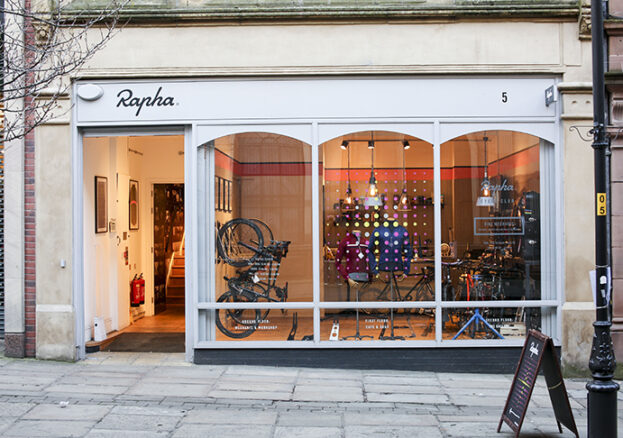 Rapha Clubhouse Manchester, AKA cyclist heaven. Forget sweaty waterproofs (that aren't so waterproof) and make-shift cycle-gear that's embarrassing to leave the house in; Rapha grew out of an ambition to combine excellent quality design, with looking good – both on and off your bike. From African sheep leather mits and vintage merino woollen jerseys, to more everyday garb; it has it all. (Not to mention an impressive range of other bike-related accessories, memorabilia and publications.)
But Rapha is more than just a cycle-wear shop. Its Manchester Clubhouse, tucked away off St. Anne's Square, is a place for anyone who loves cycling to congregate and celebrate the sport together. Across its three floors, the store also houses a stylish café and bar (serving everything from vegan strawberry protein shakes to sandwiches made with 'Pollen 28 Hour Sourdough' bread); a gallery space which plays host to a year-round programme of cycling-related exhibitions, displays, talks, book launches, film screenings and one-off events (not to mention yoga), and a mechanic's workshop offering a full range of services.
The Clubhouse runs a range of weekly, organised group rides, which are open to anyone and cater for a range of abilities – from Lycra-wearing cycling pros, to those who simply want to get fit or build their confidence.
With less than 20 Rapha stores around the world, and only three in the UK, the Manchester Clubhouse is perhaps testament to the city's love of cycling. After all, we have the Peak District and Cheshire country lanes on our doorstep, and a network of flat canal paths and cycle lanes. There's really little excuse not to dust off the old bike, and get on the road.