Caffeine & Co
Lizzie Wood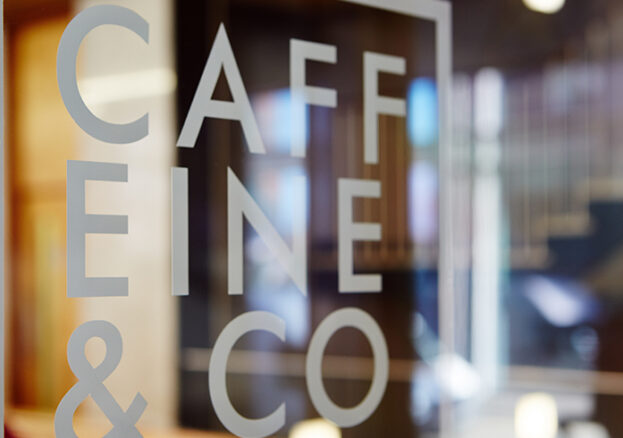 Artisan cafe Caffeine & Co branches out to a multi-functional Spinningfields pop-up.
The Christmas shoppers are out in force, the markets are in full swing and that wintry chill has got us reaching for the hats and scarves. In keeping with the season, Spinningfields in Manchester has swapped deck chairs and an outdoor cinema for its annual ice rink. As the festive feeling starts creeping up on us, there's no better excuse to swing by its newest pop-up, Caffeine & Co for a steaming cup of coffee. Run by husband and wife duo Phil and Claire Howells, the café's philosophy centres on great food, plain and simple. Using the best quality ingredients, wherever possible everything is created from scratch on a daily basis. It's a great concept – but is hardly ground breaking. So what makes Caffeine & Co stand out?
In terms of reputation at least, Caffeine & Co has stayed under the radar: despite two branches in Stretford and St James's Square respectively, it's relatively unknown. Yet its format at least deserves better recognition: despite what its name suggests, this is much more than a coffee shop. It is the tagline above the door, "Real Bread, Slow Food, Great Coffee", that reads true: the Manchester chain has a history of carefully selecting local bakers and suppliers in order to offer the freshest ingredients. As co-owner Phil explains, "It's vital that we make everything ourselves, basically bringing the ethos of a high-end restaurant in to the world of cafes. What we can't make ourselves we source the best and tastiest that we can from local suppliers that we know and trust."
You can linger into the evening & swap the coffee for something a little stronger
The new location in Quay House, Byrom Street will have the biggest menu of the three locations, offering sandwiches, stews, soups and other tasty sweet treats as well as a brunch options and a children's menu. The space itself has a Northern Quarter feel to it, courtesy of tiled walls, chalkboards leaning against the bar and plates of brownies sitting under glass cabinets. There is a genuine homeliness and inviting atmosphere to the Spinningfields' branch – here is a café that you can take the newspapers to on a Sunday afternoon.
The beauty of the pop-up is its ability to transform at the drop of a hat. Up until the New Year, the unit housing Caffeine & Co will be turned into a speak-easy inspired bar called Neukölln every evening after 6pm. Open until 11pm from Thursday to Sunday, Neukölln offers craft beers and tapas and is a nice way to double the use of the space.
A year ago, Spinningfields was predominantly filled with uninspiring chains. Caffeine & Co paves the way for something a little more dynamic and provides a welcome contrast to the hustle and bustle of the Christmas markets. It's here that shoppers can take a break with a warming mug of java, while the unit's late night incarnation means you can linger into the evening and swap the coffee for something a little stronger.