Manley Mere in Cheshire
Rory Calland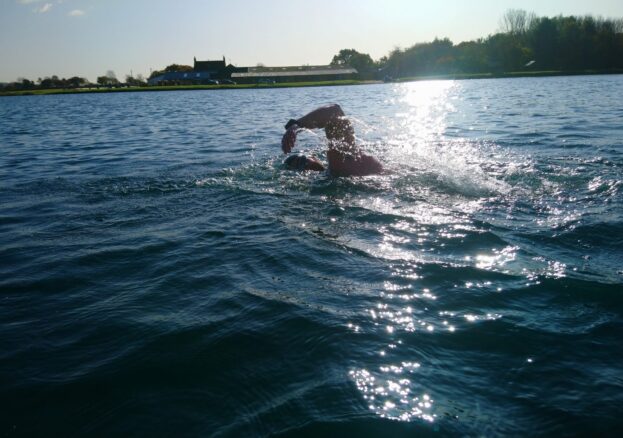 Manley Mere in Frodsham is a man-made lake between the Mersey and the Dee. With an emphasis on safety it is tailor-made for people to get to grips with all kinds of water-sports, including open-water swimming. But this isn't just a place you can turn up and swim. To get in the water here you've got to be a member of NOWCA, which sounds more disappointingly exclusive than it is. NOWCA is actually the National Open Water Coaching Association, and they offer safety courses you should know about if you're a wild swimmer. Here, you wear a special wristband in the water which lets the officials more easily manage who and where you are in the water.
This place is kitted out for whatever you want to do, it's ideal for cutting your teeth before venturing out to wilder, more secluded locations. There are specific open water courses where you can choose your distance and even monitor your time with the wristband. And frankly, the pièce de résistance, Cheshire Aqua Park is too fun to resist. It's a real giggle for groups and parties, with huge inflatable obstacle courses, slides and games you won't be short of things to do here.
Sailing, Kayaking, Fishing and basically anything you can add the suffix surfing to can be done here, and there are a bunch of courses and groups to join up to if you think you can get down regularly. If you're there with the family and some members would rather get muddy than wet there's an adventure trail around the outside where they can get stuck in. Pack a change of clothes if you want to pop in to the restaurant to refuel after all the activity.