Jamie's Italian Manchester
Kate Feld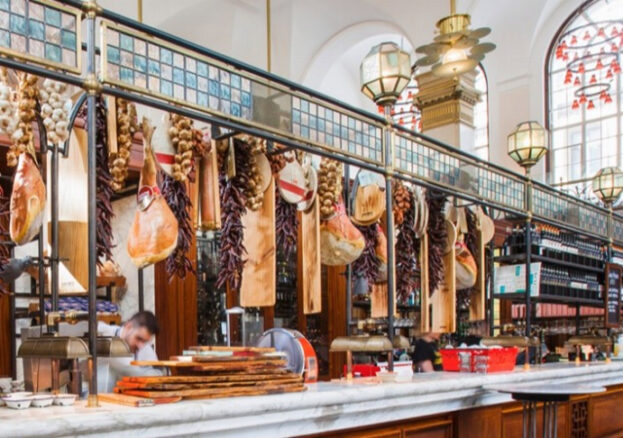 The cheeky chappie from down South has set up his first Manchester restaurant on King Street. But branding aside: is it a good place to eat and drink? Kate finds out.
It's always difficult when a restaurant is dominated by a strong personality. No matter how good the food or the overall experience, it can't help but be upstaged. So it is with the newest restaurant on King Street. But in this case the overbearing celebrity isn't a perpetually boyish chef from Essex, but a building. For Jamie's Italian is located in Edwin Lutyens' soaringly elegant Midland Bank, one of the city's treasures. If anything has the knock' em dead charisma to stand up to Oliver's patented charm, this building is it. And it's been lovingly outfitted for its new gig as the 29th branch of Jamie's Italian in the UK: red-shaded chandeliers twinkle in the stratosphere, the safe deposit box viewing rooms have been converted into individual loos, and the spectacular vault, which resembles something out of Metropolis, has been done over into a very secure private dining room.
If anything has the knock' em dead charisma to stand up to Oliver's patented charm, this building is it.
Oliver tends to divide people, with most of the nation snapping up his bestselling cookbooks and a smaller cadre of foodies turning their nose up at his endless merchandising, multiple restaurant chains and frequent jaunts to co-opt world cuisines (surely the man has visited so many countries by now that a  'Jamie does Kyrgyzstan' cookbook can't be far off.) I'm vaguely pro-Oliver. I usually like his recipes and he obviously cares enough about good food to get involved in things like his school dinners campaign. Like it or not, the long tail of chef-endorsed pans, sauces and potholders is no more than the trappings of success for a celebrity chef these days, and if he's better at flogging kitchenware than most of his contemporaries, he seems too benign a presence to actively resent for it.
One thing Oliver definitely stands for, though, is quality of ingredients, and the food at Jamie's Italian bears this out. Upon entering, your eye is immediately drawn to the huge hams and strings of peppers hanging behind the bar, and to the stacks of flame-licked bread waiting to be made into bruschettas. The sharing platters are the best way to have a taste. Yes, the presentation is a bit cutesy (a server plunks two cans of imported Italian tomatoes on the table and arranges a wooden plank of nibbles on top), but what you get is top notch. Bright green intensely rich olives were the best I'd tasted in ages, hard cheese was nuttily impeccable, and an antipasti mix of roasted peppers and other veg was vinegary perfection. A starter of calamari fritti was light as air, coated in a pleasantly crunchy semolina batter with a robust aioli for dipping.
Yes, the presentation is a bit cutesy, but what you get is top notch
The menu's full of crowd-pleasing choices, with a huge selection of pastas, mains and bruschettas, and an appealing kids menu. If you go for Sunday lunch, as we did, look out for the porchetta special. A gorgeous slab of pork belly rolled with a savoury blend of spices and breadcrumbs that made a strong case for pork to supplant roast beef as the king of Sunday lunch. A side of carrots roasted in foil were some of the carrotiest carrots we'd ever tasted. And my friend's pasta in a Sicilian-inspired sauce of red peppers and tomatoes was simple but successful.
The drinks range is broad and deep, with wine, beer and cocktails for all tastes and budgets. It being a warm day we opted for a special cocktail, a variation on the Bellini with summer fruit. Our dessert of an almond tart was good rather than great, but to be honest we didn't have much room to appreciate it by then. Portions are large, and the menu's pretty good value:  most mains run from £10 to just under £20, but you can get sandwiches and pastas for less.
The only off note was the music, which was far too loud and echoed around the vast space. I imagine the soundtrack of cheesy eighties one-hit-wonders was intended to convey that this is a relaxed place where you'll enjoy yourself rather than a serious temple of cuisine. Still, it's early days, but this has the promise of being one of those reliable standbys that go a fair way towards pleasing everyone, be they young couples on a date, groups of friends, fussy eater kids or choosy in-laws. In short: bankable.
Jamie's Italian, 100 King Street M2 4WU. Mains £10-£18. Open for lunch and dinner.