Horizon Line Chamber
Polly Checkland Harding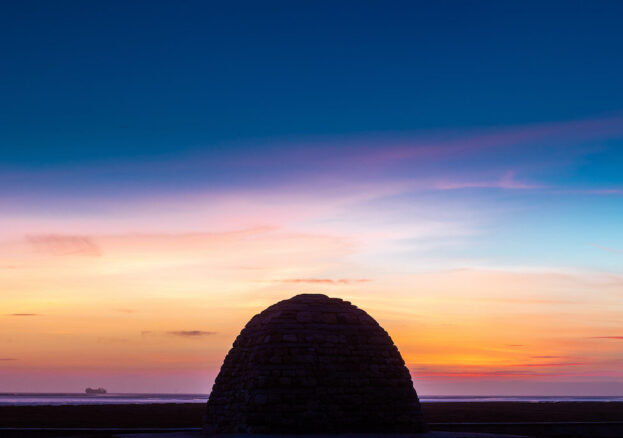 Horizon Line Chamber, a handmade stone oratory on the shoreline at Sunderland Point, is one of a series of Chamber works by the artist Chris Drury. It's a kindred structure to fourteen others, including a Sky Mountain Chamber in the Dolomites and a Star Chamber in Nashville, Tennessee – but equally an entirely unique construction. Made from stone reclaimed from the site, excavated from a former port settlement, Morecambe Bay's Horizon Line Chamber was made by master craftsman and dry stone waller, Andrew Mason. This is part of Drury's approach to every chamber in the series: each one responds specifically to its location, using materials and skills from the local area.
Born in Sri Lanka, Drury is an environmental artist, creating site-specific, nature-based sculptures. For him, the Sunderland Point site was 'almost perfect, due to the changing nature of Morecambe Bay'. The Horizon Line Chamber responds to its surroundings: it's shaped like an upturned boat, with a lens in its sea-facing wall that transforms the small space inside into a camera obscura, with an inverted image of the horizon projected on the wall inside. Visitors can take a seat within, and watch the shifting shoreline from an entirely new perspective.
This is a place where the tides are a huge influence on the landscape; Sunderland Point is cut off from the land at high tide twice a day. Horizon Line Chamber was commissioned as part of the Headlands to Headspace Landscape Art programme, a project that concentrated on engaging both visitors and locals alike with the natural and cultural facets of Morecambe Bay. Alongside other sculptures including SHIP by Anna Gillespie, Drury's installation was by Funded by the National Lottery Heritage Fund and co-produced by the Morecambe Bay Partnership and Deco Publique, the team behind the hugely popular Vintage by the Sea festival.
For more outdoor art, explore our dedicated guide to Outdoor Art in the North.