More Music
Polly Checkland Harding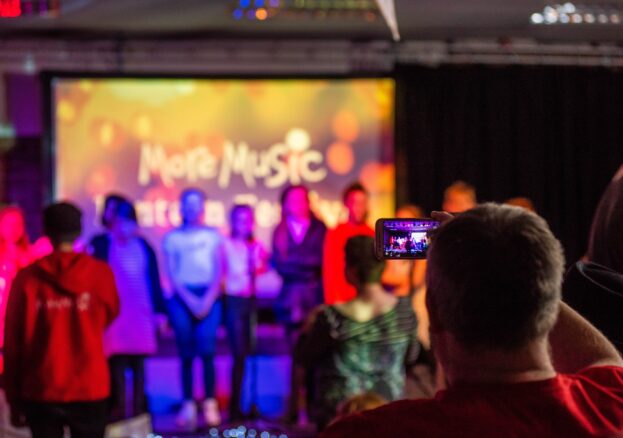 Morecambe's award-winning community, music and education charity More Music has been operating for over 25 years, making it one of the longest-running organisations of its kind in the UK. Based in the West End of the town, in a classical building called the Hothouse, the charity hosts a year-round programme of music making activity for people of all ages and backgrounds, with the aim of building confidence and connections for both individuals, and across the town's population. Access, imagination and community are the values at the heart of all of More Music's projects – including the annual Catch the Wind Kite Festival, which takes place along the waterfront over one weekend every summer.
Drawing crowds of around 20,000 people, the festival is an extravaganza of creatively-shaped kites, music performances, stalls and crafts, with imaginariums, a helter skelter and circus games a plenty. Every year, Catch the Wind Kite Festival transforms Morecambe's waterfront into an airborne menagerie, with kite designs ranging from the abstract to the outlandish – from giant sea creatures to Batman and pigs with wings. Catch the Wind Kite Festival is the highlight of a twelve-month, music-focused programme from that includes weekly music sessions, the Seagull Café singalong and afternoon tea, as well as a wide range of workshops for schools.
More Music works across Lancashire and the North West, and on national and international projects, all from a building with its own fascinating (and apt) history. Formerly known as Devonshire Hall, it was originally a music hall, before becoming a snooker hall affectionately known as 'The Dev' in the 1930s. The ground floor was home to a paint factory and then a decorating firm before they took over the site. It's now the base for a community charity with an admirable set of aims at its heart.