Port of Lancaster Smokehouse
Polly Checkland Harding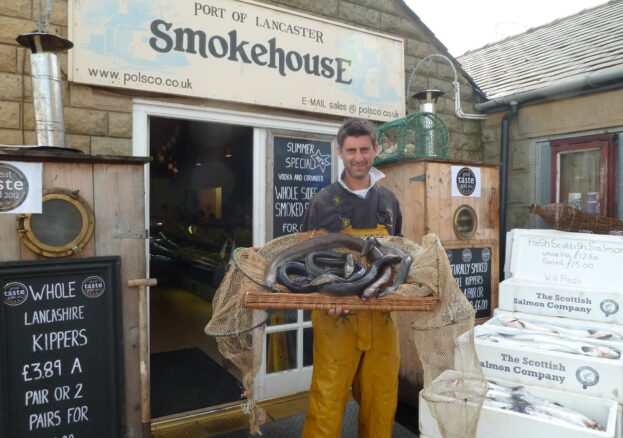 The Port of Lancaster Smokehouse at Glasson Dock is the proud winner of numerous Great Taste Awards for its beautifully smoked fish, meat and cheese products. Established over 40 years ago by John and Patricia (or Pat) Price, the smokehouse had humble beginnings; at the beginning, John used to pin herring open during the smoking process using matches from his pipe. Although the team has since moved on to more sophisticated – if still deeply traditional – methods, the key element in the process has stayed the same: time. This works both ways; minimising the length of time between a catch and the smokehouse, and maximising the time spent smoking once there to enhance and deepen the rich flavours.
Amongst their much garlanded products are award-winning kippers made from herring sourced in the North East Atlantic, smoked eel, and Morecambe Bay potted shrimps. Salmon is cured over Cheshire rock salt and slowly smoked over 12-18 hours using the Port of Lancaster's own blend of hardwood and techniques mastered by artisans in the Netherlands, Norway and Scotland. Then there are Arbroath Smokies, or pairs of haddock tied at the tail that are traditionally cured in a 'smokie' pit – usually a whisky barrel set in a hole in the ground – as well as smoked and unsmoked meats.
The Port of Lancaster Smokehouse sells gift boxes and hampers online, including high quality wild game; their North of England smokehouse is surrounded by carefully managed woodlands and the Trough of Bowland hills. Also online and in the shop itself are chutneys, condiments, crackers, pâté, pickles, preserves and more. The shop stands in the historic Glasson Dock village, which is the starting point for the 128.8km Bay Cycle Way route. The harbour here dates back to 1787 and sits on the estuary of the River Lune, where canal, river and sea meet – an appropriate spot for this acclaimed smokehouse, which remains in the Price family, run by Pat and Michael, John and Pat's son.