Hardcastle Crags
Polly Checkland Harding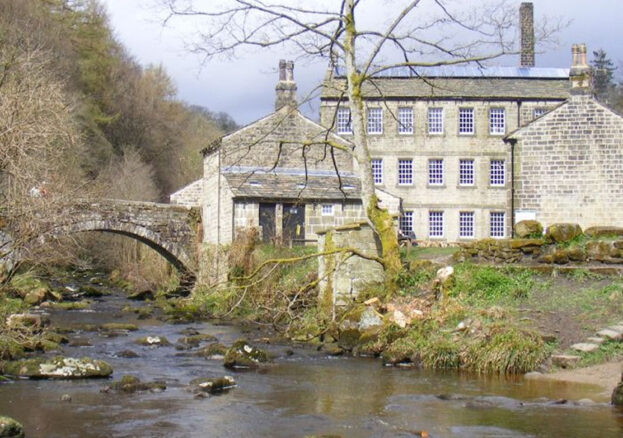 Hardcastle Crags, a wooded valley and 19th century mill, owned by the National Trust, is just a ten minute cycle from the centre of Hebden Bridge. Once known as the 'Switzerland of Yorkshire', the site combines over 400 acres of unspoilt woodland with Gibson Mill, where there's the Weaving Shed Café and toilets. There are 15 miles of footpaths through the valley, around which visitors can encounter tumbling streams and waterfalls and hay meadows rich with wildlife high on the valley's sides, roe deer in the early morning and bats at dusk – as well as listening out for Great Spotted Woodpeckers. Head to the 'Visit now' button below to download the map of waymarked trails and choose a route from the challenging Railway Trail with spectacular views from the upper valley, to the Estate Track, which is suitable for pushchairs and wheelchairs.
Much of the woodland here was planted in the 1870s, beautifying the approach to Lord Savile's shooting lodge, though there are some areas of semi-natural and ancient woodland too. It's all managed by the National Trust, with the aspiration of demonstrating best practice for Natural Flood Management; a huge group of volunteers has been working hard to build leaky dams across the site, which help rainwater to pool, giving it time to soak into the ground. Over 500 have been constructed, helping to increase protection to the land downstream and decrease the flood risk in the Calder Valley.
Gibson Mill is also part of an ambitious drive towards energy conservation and working in harmony with the natural environment. First built to power the industrial revolution, with a water wheel enabling the production of cotton cloth, restoration began at the mill in 2005, including the reinstatement of the original 1926 Francis hydro turbine. Now, the mill is the National Trust's flagship sustainable building, unique in the UK for having no links to the national grid. This means that there's no mains power, water or sewerage connections; solar panels and water turbines supply almost all of the energy needed by the café and mill itself, food waste is composted on site and resident tiger worms are used to process waste from the toilets. Visit for a stunning wild natural habitat, and a pioneering approach to the environment.
Read our full guide to Hebden Bridge here.