Elixir Tonics & Treats
Lizzie Wood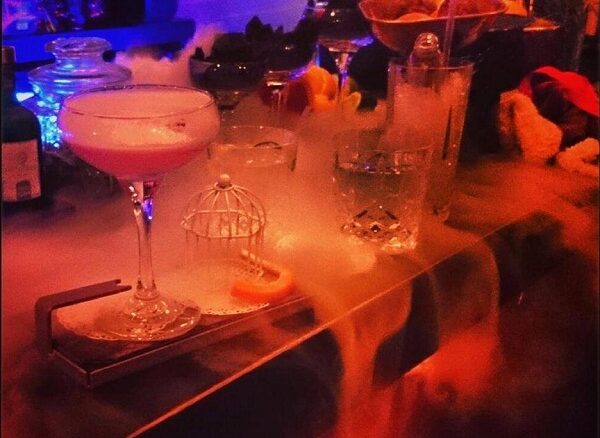 At Elixir Tonic & Treats bar on Deansgate, the drinks are a marvel.
Located opposite the John Rylands Library, Manchester's latest alcoholic apothecary is the independently-run Elixir Tonic & Treats. With its gothic-style doors, pushed back slightly from the bustling frontline of Deansgate (it's easy to walk right past on a first visit), this new bar seeks to bridge the gap between the Northern Quarter's hipster scene and the city slickers of Spinningfields. The idea behind Elixir, which means "a magical or medicinal potion," rings true: the vibe here is, quite simply, all about great drinks.
Elixir means "a magical or medicinal potion"
Yet the decor has been given attention, too. Flickering candles are dotted around the walls and floors, while lush vines curl up the exposed brickwork, which almost makes you feel underground. The end result is a magical atmosphere not dissimilar from the other cocktail shakers and makers that now prop up Manchester's ever-growing drinking scene, from the Northern Quarter's Apotheca to Salford's secret Corridor. The mysterious, gothic mood here means that, by the time we reach the bar, I'm ready for something flamboyant and a bit dramatic. And I'm not disappointed. The impressive cocktail list steps away from some of the better known holiday classics in exchange for concoctions such as a "Paradise Lost" (a vodka based drink with strawberry, lemon and vanilla) and the intriguing "Widow of Windsor" (gin, triple sec, lemon and sherry served with a caged truffle and atomisers). Luckily, the bar staff are knowledgeable and friendly when advising on what to order. The delivery and presentation is equally unique – you can never be quite sure what you're going to get. During our visit, a neighbouring table received a round of drinks served with smoke bubbling over the top while our own came in an antique-looking hip flask.
Beyond the cocktail menu, a daily bar menu is served from 12pm-6pm with sandwiches, soups, sides and more. The food here is good and reasonably priced, making it the perfect location to grab a post-work bite. The sharing platters are particularly good value, and a great way to start the night before starting on the cocktail menu once the bar comes to life in the evenings.  At £2 each, it's refreshing that the soft drinks are reasonably priced – perfect for those attempting Dry January.
One of the secret surprises at Elixir is its "ten o clock treats": these take place each Saturday night; everyone is handed a little freebie. What that is varies from week to week – from a shot of prosecco to a taster from the kitchen – and is a nice touch that firms up Elixir's presence as a friendly, independently-run bar with more than a few tricks up its sleeve.