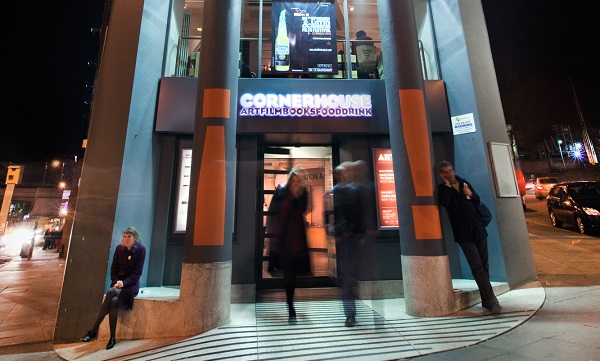 We talk to writer Matt Greenhalgh about his new Steve Coogan film in the place it all began – Cornerhouse.
Like so many good things, the story of the new Steve Coogan/Michael Winterbottom film The Look of Love started in the bar at Cornerhouse. "I got a phone call from Steve Coogan, who I'd never met," says writer Matt Greenhalgh, whose previous credits include the Ian Curtis biopic Control and Nowhere Boy, the tale of the early days of John Lennon. "He was coming to Manchester, he said, to visit his family and wanted to meet up to talk about a project. So there I am sitting in the bar at Cornerhouse when suddenly Steve jumps out of a taxi and proceeds to spend the next hour telling me everything there was to know about Paul Raymond, the famous, or infamous, figure known as The King of Soho in the 1960s. Of course, Steve tells the story by going into the various characters and I'm in stitches, as is everyone else in the bar at the time."
"So I've pretty much said 'yes' before I even find out that Michael Winterbottom is on board as the director, which absolutely seals the deal. That was two years ago but other things got in the way, as they often do in the film business, so it was probably a year or more before we seriously sat down together to talk about the script. You had these two very strong characters in a room and me but we all had respect for each other's views and no-one got arsey."
As a writer you've given your words to someone else & you have to accept that
You can certainly see why Coogan would have been attracted to Paul Raymond's remarkable story. After starting his show business career as a mind-reader in a cabaret act, Raymond's simple realisation that sex sells made him Britain's richest man – he eventually amassed a £1.5 billion empire made up of gentleman's clubs, porn magazines and nude theatre. His personal life, meanwhile, was as colourful as his revue shows and nearly as public. His marriage to Jean, a nude dancer and choreographer, ended in a difficult divorce when he met Fiona Richmond, a glamour model who became the pin-up star of his magazines and shows as well as his business partner. His daughter Debbie, though, was the true love of his life, and heir to his empire until her tragic and untimely death from a drugs overdose aged 36. "I'd made it clear that I didn't think the film should simply be a celebration of someone who, arguably at least, made us as a culture much more open and European in our attitude to sex," says Greenhalgh. "Whatever you might think about that, I didn't believe it would sustain a whole film and thought that the most interesting aspect of the story was Raymond's relationship with two of the women in his life – Fiona Richmond and Debbie, the daughter desperate to be as successful as her dad.
"People talk about how improvisational Michael is and how Steve takes over a character, but the film is very much like the script. Inevitably, I feel a slight disconnect from it as I've moved on to do other things but that's something I'm familiar with from Control and Nowhere Boy. As the writer you've given your words to someone else and you've simply got to accept that unless you direct it yourself."
He has, in fact, directed two short films himself: Acid Burn, starring his old pal-turned-supermodel Agyness Deyn, and Supermarket Girl, with Matthew Beard and Nichola Burley, shot over one night in Tesco's in Bolton. But, certainly since a mooted project with HBO crashed and burned after more than a year trying to get it off the ground, directing his own feature film is not something that appeal. "Definitely not at the moment, while I'm getting asked to write for people and projects that excite me in a way years of meetings and disappointments couldn't," he wryly observes. One such is a script for the US producer Barbara Broccoli (of Bond-franchise fame), based on actor Peter Turner's book Film Stars Don't Die in Liverpool. The book is about Turner's former lover Gloria Grahame, the star of noir classic In A Lonely Place. "I've spent the last six months watching every one of her films because she's someone whose life shines out through her acting," Greenhalgh says. "So yes, it's another one about a real person, or at least about what's real in my head."