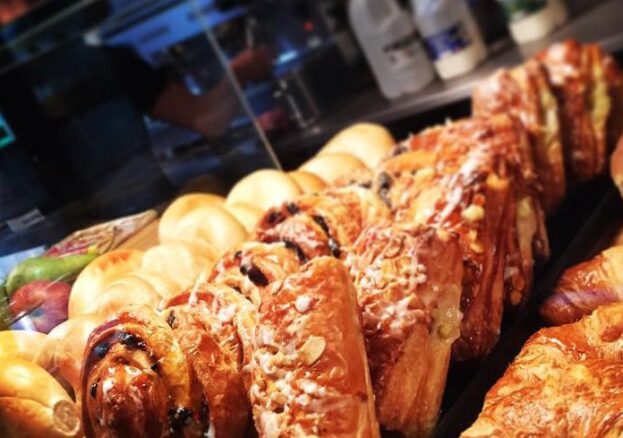 Famed for its lunch time deals, Café Cotton is a welcome canal-side Mecca for sandwiches, coffee and cake.
As we've noted before, Ancoats — the world's first industrial suburb — is experiencing nothing short of a renaissance. Like all good revivals, first came the converted flats, closely followed by the start-ups. And then, of course, came the food in the form of Rudy's Pizza, finally establishing the former beating heart of the Cottonopolis as a fully functioning modern neighbourhood, and a convincing one at that.
Lunch time traffic from nearby flats and offices frequently stretches out the door
Part of the picture is Radium Street's Café Cotton, which opened in 2014 in the shadows of Sankeys and, since then, has acquired a cult following, with lunch time traffic from nearby flats and offices frequently stretching out the door. Underpinned by very decent coffee and cakes made in house, Café Cotton has fast become the area's go-to midday pit stop — and the stuff of sandwich legend. A friend who works locally described her office making daily orders en masse, describing the halloumi barms with eyes ablaze.
Apart from a busy lunch time trade, Café Cotton has a relaxed Scandi vibe inside, which makes it a happy, canal-side spot for Saturday breakfasts and nomadic weekday freelancers. Hearty porridge and yoghurt morning options make for a great grab 'n' go breakfast, but it's the range of sandwiches on 'proper' bread that people will venture out of their way for. Sunblush tomatoes and avocado come in abundance, with the added bonus of a drink and a slice of cake for just a fiver making this a pretty unbeatable deal. Gluten-free fans can also rejoice at the available bread, even if the refrigerated salad selection does leave something to be desired. Otherwise, we've no complaints whatsoever about this cosy spot in Ancoats.