Enxaneta at Tast Cuina Catalana
Ian Jones, Food and Drink Editor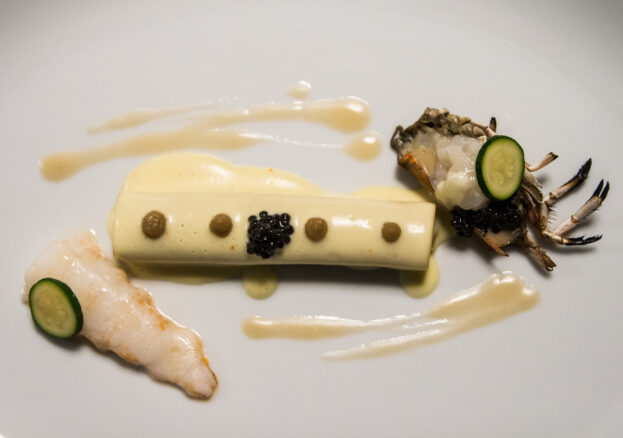 Food lovers of Manchester and beyond, take a seat – this is something special. Tast, the King Street restaurant known in the football world for having no less than Pep Guardiola as a backer but more well known in the food world for having acclaimed chef Paco Perez at the helm, has launched Enxaneta, a 16 cover tasting menu experience, way up on the second floor.
This location leads to the name – a famous event in Catalonian festivals, where the 'enxaneta' is the boy or girl who climbs up the 'castell' (aka a human tower), to form the highest point. Injuries abound, apparently.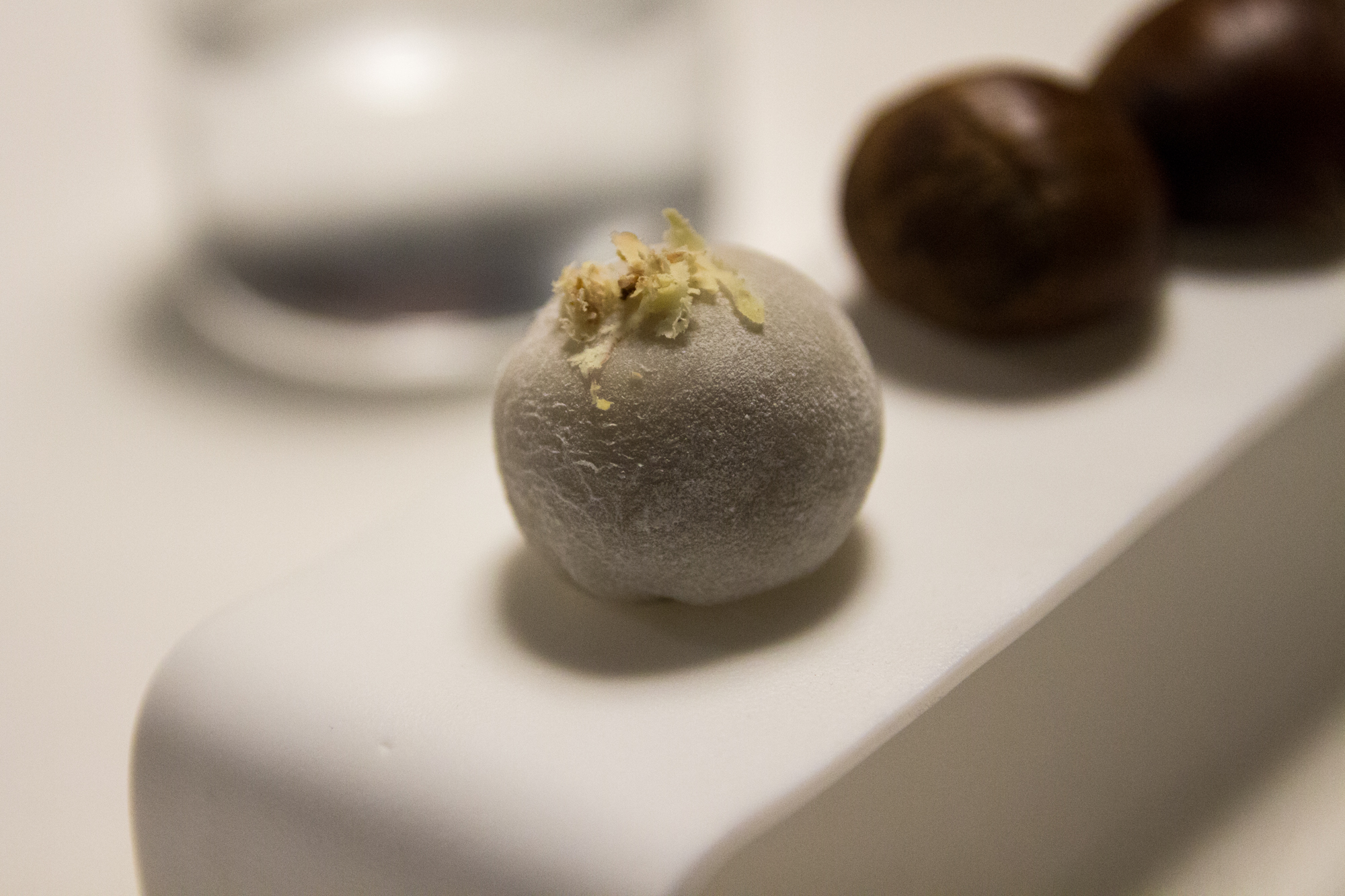 There are two menus on offer, and – grab the smelling salts – they're not cheap. You can choose from ten courses for £95, or fifteen courses for £135. All the courses are prepared and cooked in a small kitchen on the same floor, entirely separate from the other restaurant. It's a one-of-a-kind experience, no doubt, but is it any good?
The first dish of note is the chestnut mochi. Picture a floury bonbon sweet crossed with a har gow dumpling, flavoured with chestnut cream. Word to the wise: eat this in one mouthful as the chestnut cream is on the liquid side of gooey, and you don't want to ruin your best dress. It looks and tastes great, but (unlike me) don't be tempted to eat the accompanying chestnut – they're for show only and pretty hard on the teeth.
Next, a two-in-one course: mini mussels in a saffron and chili cream sauce, sat next to the eye-opening form of a tempura fried prawn filled with a prawn tartar (a kind of prawn centipede, if you will). Both elements are fantastic, full of warm satisfying umami flavours but the prawn skin, made from tapioca and tempura fried, is something special – the prawn tartar is mixed with a delicate mushroom, for texture. It's over in a single bite, but unforgettable.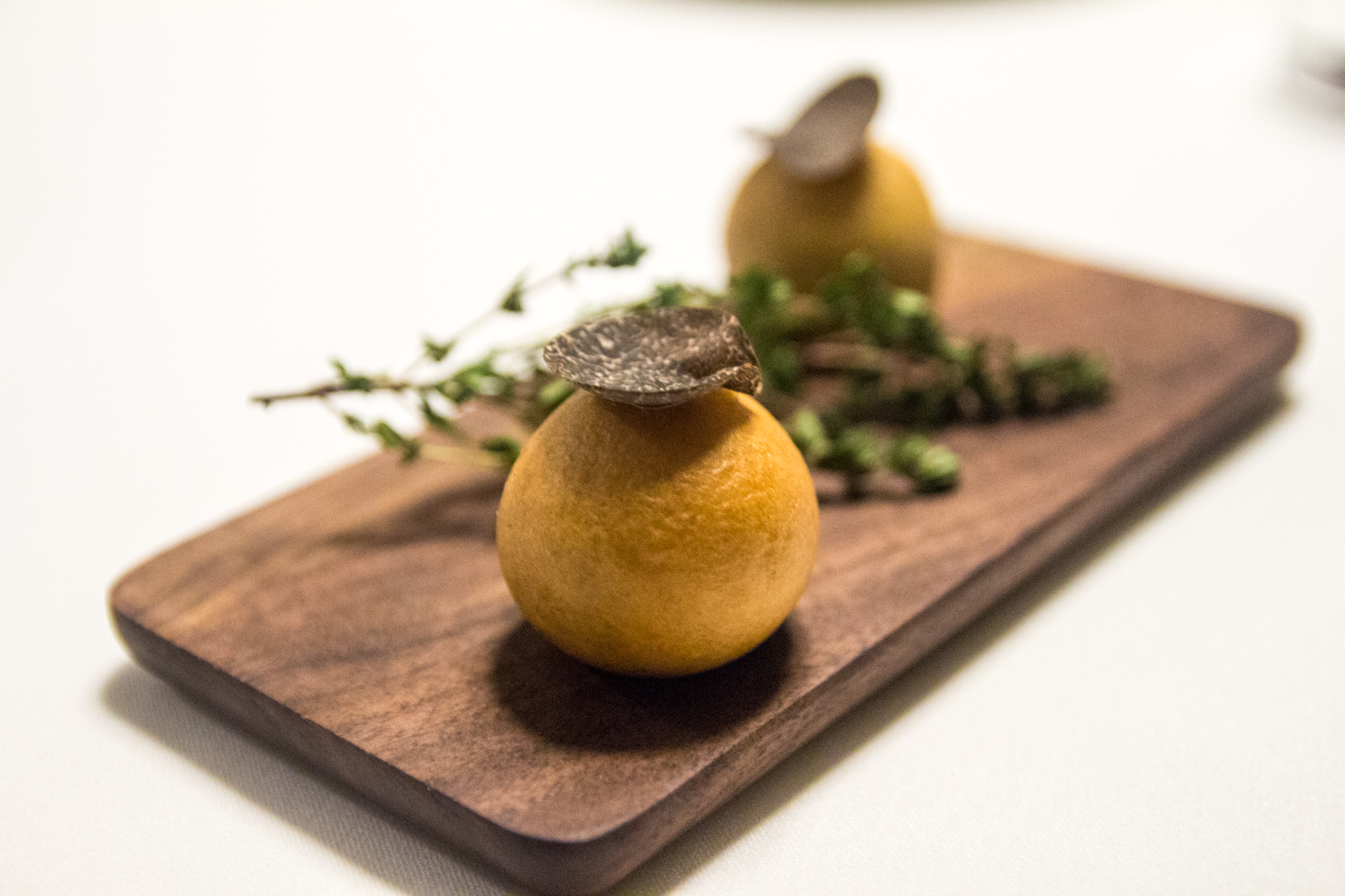 Then the bunyol de caça, or as we'd call it, a pigeon bonbon in tempura. The paper thin shell is made from Ninyoyaki tempura, contains a parfait made from pigeon liver, heart and a just-enough dab of honey. Again, eat it in one bite as these beautiful little spheres burst in the mouth with the slightest pressure. Again, it's wonderful.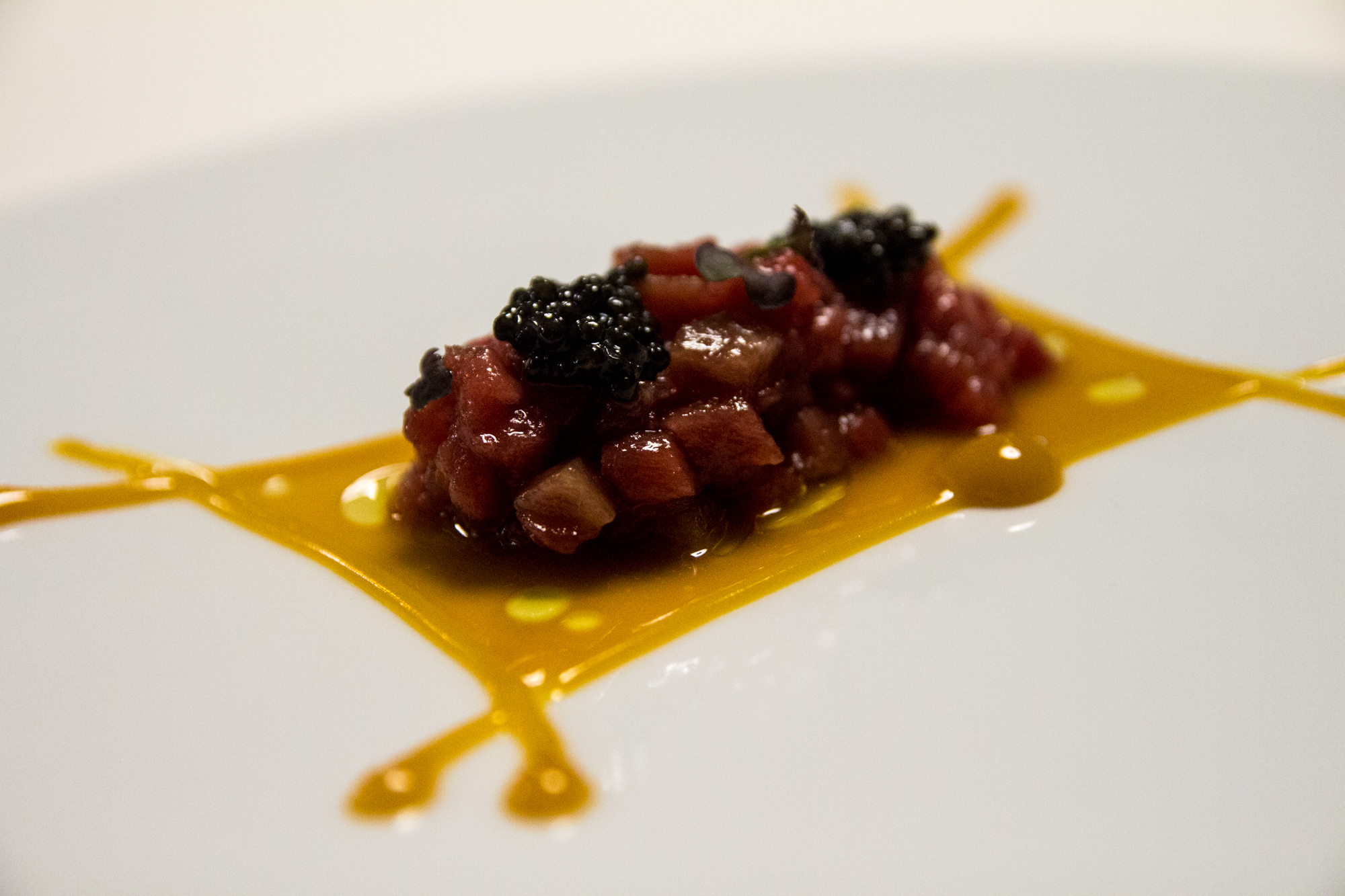 The meal takes the form of a traditional meal, starter, main, dessert and following these intricate almost-Japanese-style appetisers it's time for the starters. The first of which is tuna tartar – along with a whole lot more. An artful rectangle of truffle egg yolk emulsion is painted on the plate, then topped with loin of tuna tartar, sea urchin dachi (a Japanese stock) and dollops of beautiful Beluga caviar. The flavours all blend beautifully, an earthy, saltwater whack, while the plate itself is small enough to just tease the tastebuds, rather than overwhelm.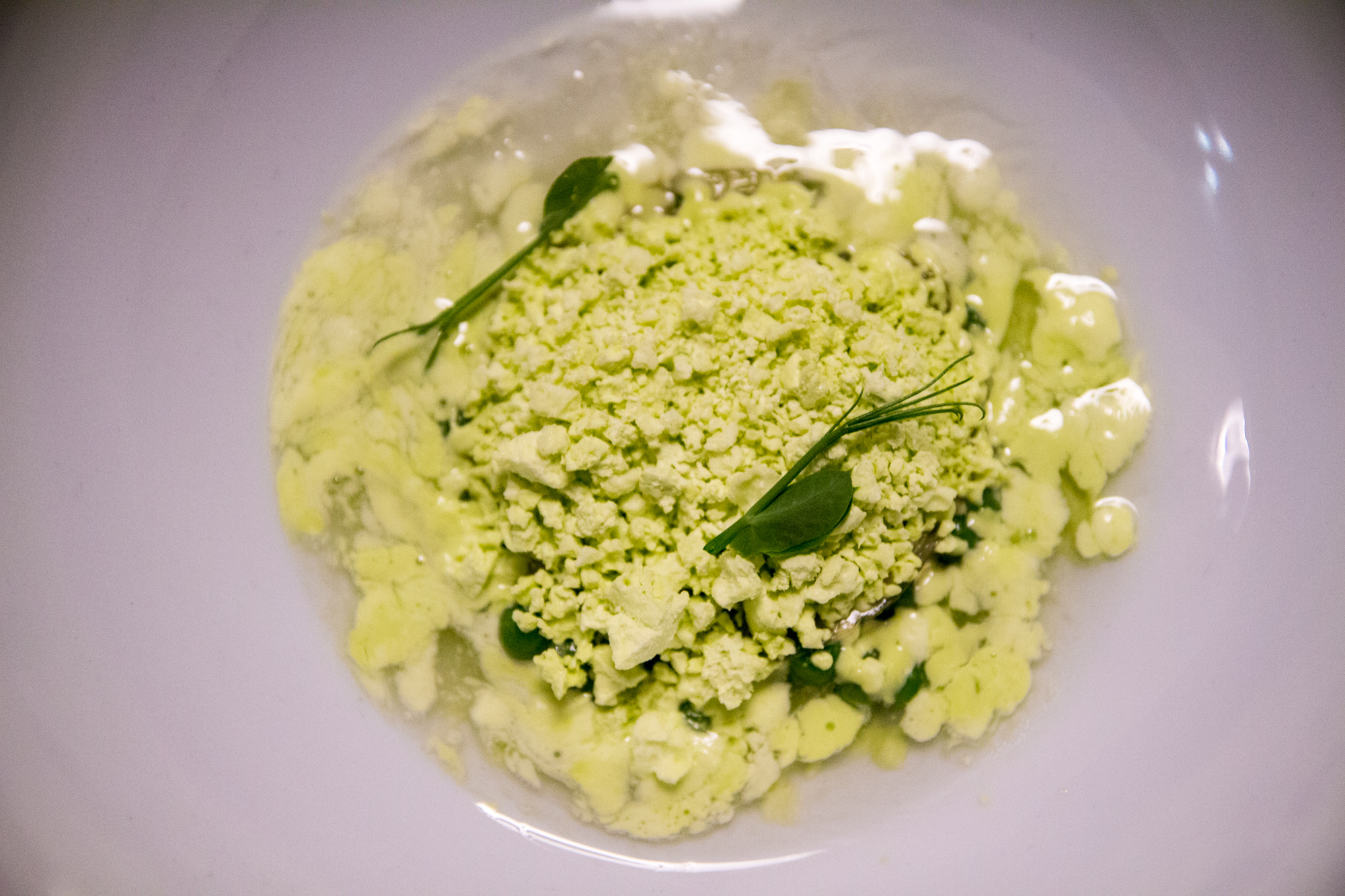 Next up, peas. And that's it – just peas, or as the menu states 'pesols purs', aka pure peas. I like peas as much as the next man, sure, but they're hardly deserving of their own course… or so I thought. This is the course where I came to the realisation that something magical was happening back in the kitchen. Of course, rather than just a big bowl of garden peas, this is a bowl of peas made unrecognisable – most startling of which is the pea hollandaise turned into a kind of crumbly pea powder. Then a pea vail jelly made from pea pods, on top of a pea consome, finished off with pea foam. Never in my life have peas tasted so good. This was one of the most memorable dishes of a very, very memorable menu. And it was just peas. Blimey.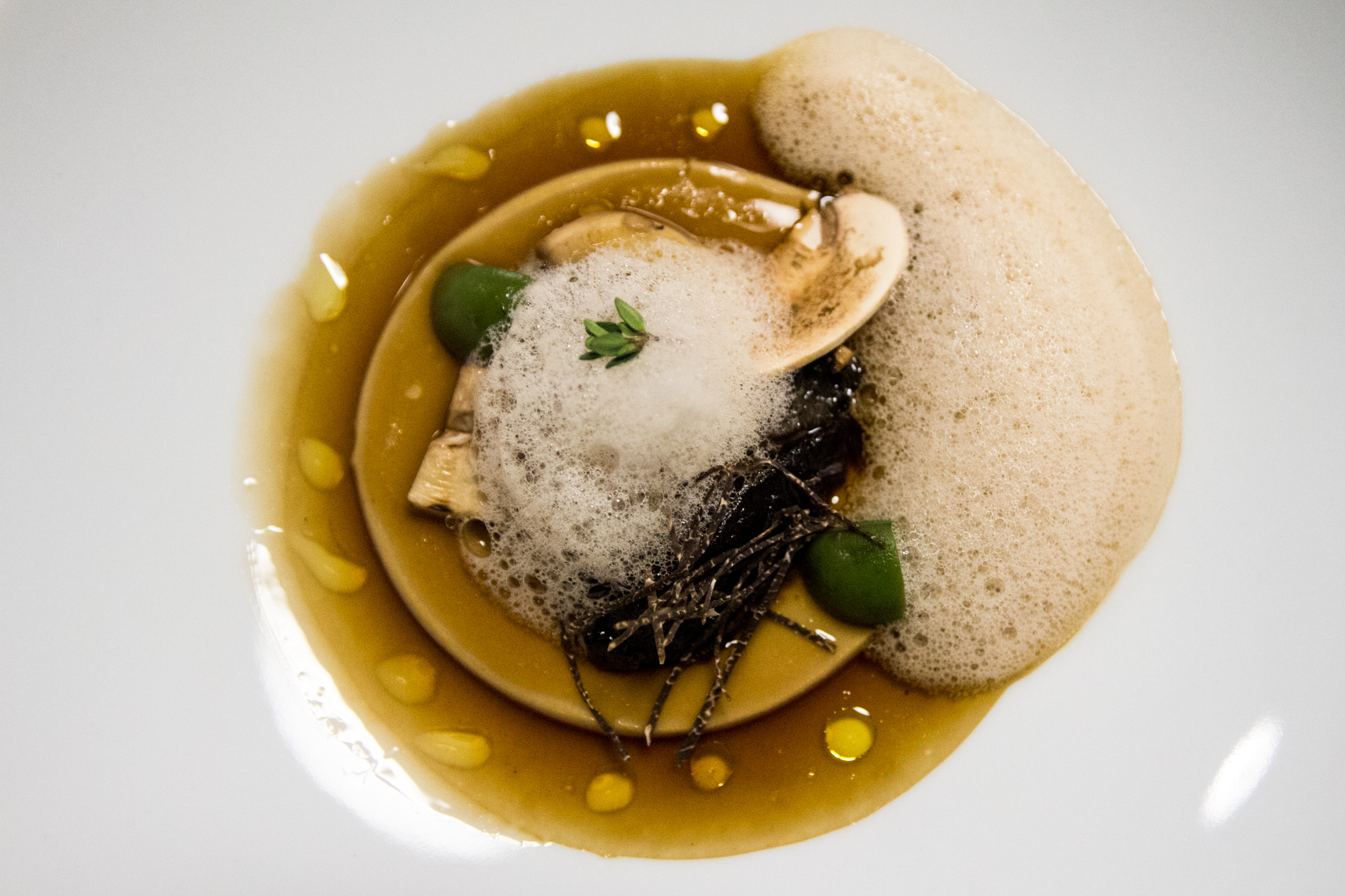 The third 'starter' is xampinyons en la seva diversitat, which translates as button mushroom diversity (insert your own x-rated Britain's Got Talent joke here). Following in the mighty footsteps of peas – and I'll wager that sentence has never been written in a restaurant review before – this course consists of button mushrooms in three steps: fried, sliced and infused with codium seaweed. It also includes a mushroom foam, winter black truffle and a sauce containing background flavours of thyme.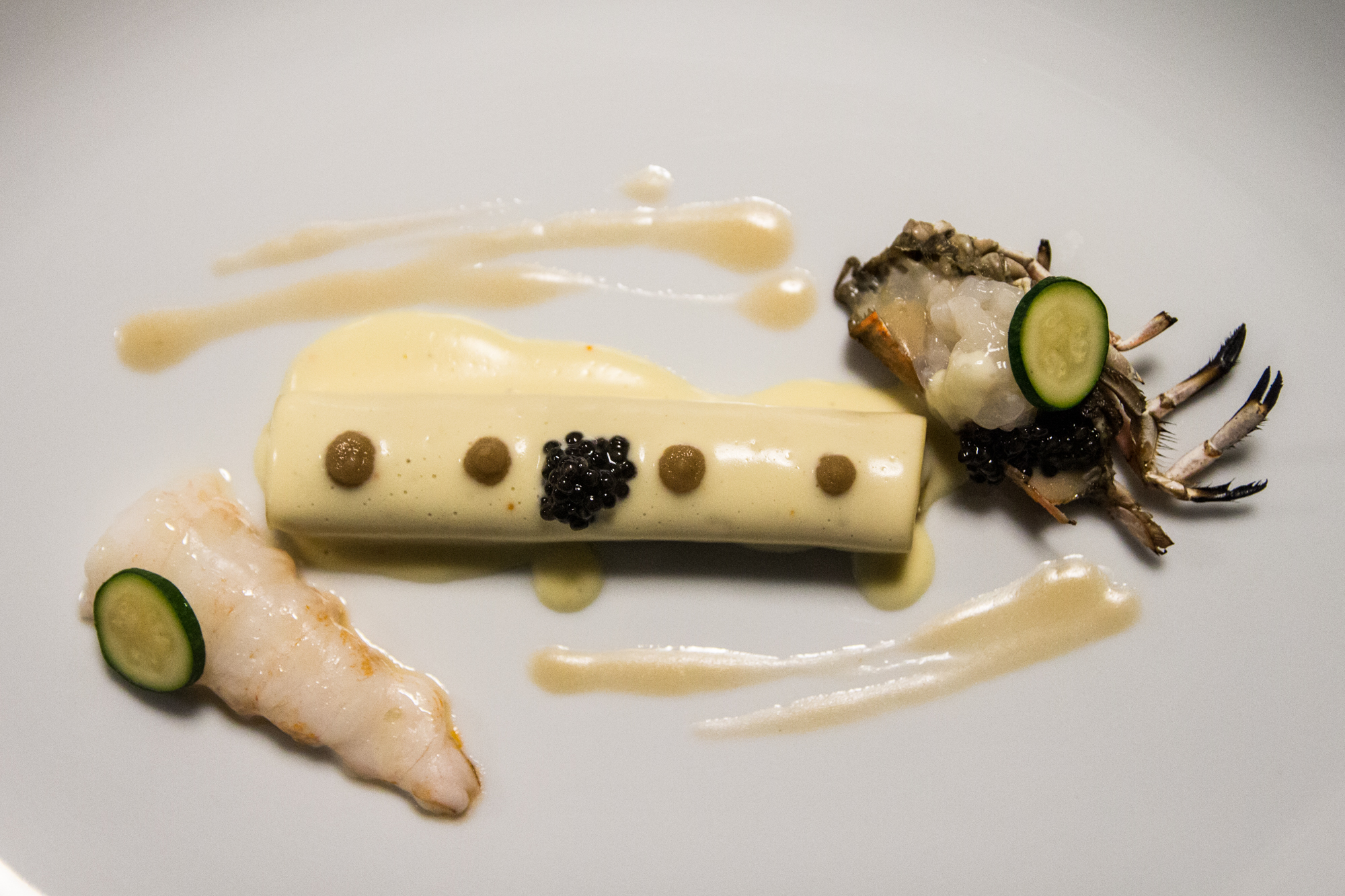 The final starter is the espardenyes a la carbonara (sea cucumber carbonara), an attractive dish all vivid yellows dashes, made all the more remarkable by the fact that while the central element looks and feels like pasta, it isn't pasta at all. Rather, it's sea cucumber, all the way from the seabed and converted from something pretty damn ugly into something pretty damn pretty. Alongside this you'll find truffle flavours (Paco certainly loves truffle) and smoked pork chin, that all work together in a quietly brilliant way.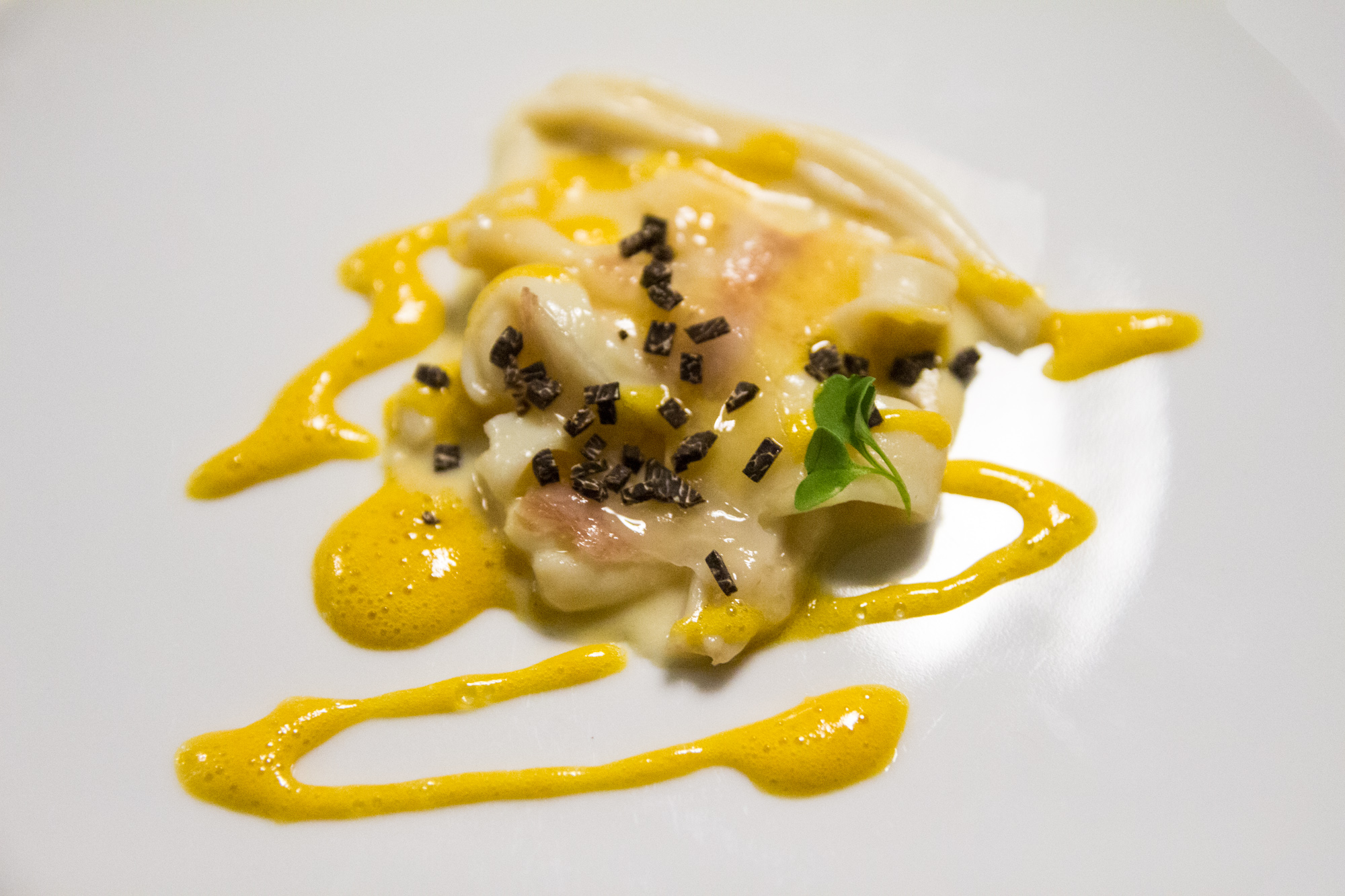 And then the mains. By now, tasting menus can become a little tired, with both guests and serving staff wilting after so many courses, but not here. Enxaneta is paced perfectly, each course greeted with awed astonishment. The first 'main' is the langoustine cannelloni, which is pretty much food as modern art. All artful dots and an array of shapes, angles and textures. The canneloni comes with another splat of Beluga caviar, plus those intoxicating truffle flavours, set off by the tail and head of the langoustine on either side. It's almost an insult to describe it as the seafood course as it's so much more.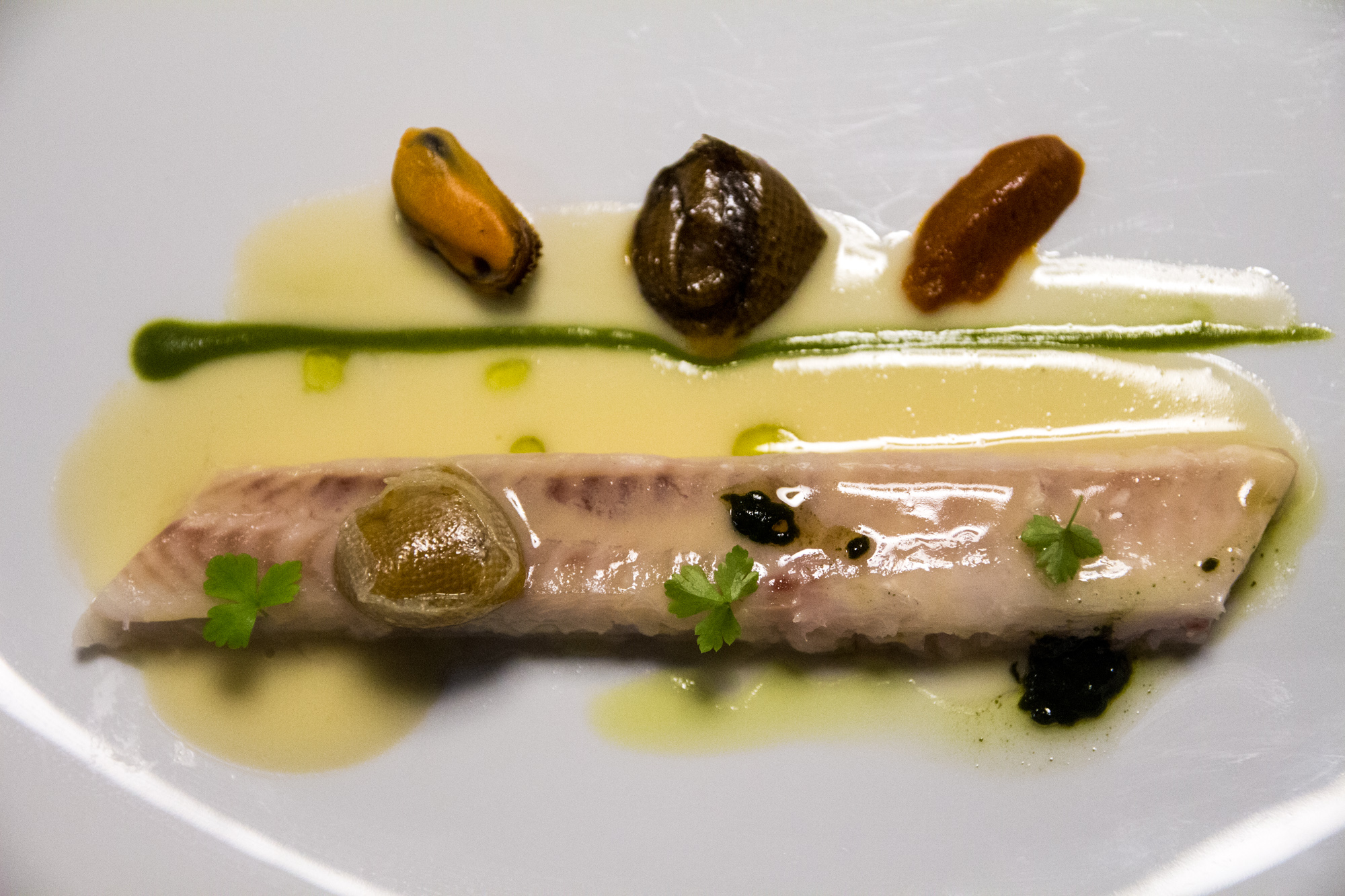 Artichoke and black truffle rice follow, a perfect circle of black truffle and artichoke rice, made with a gloriously creamy mushroom mayonnaise and parmesan aged for 14 months (and you can taste it). This shows Paco's skills off to the fore, a handful of simple ingredients whipped up into something you'll never forget. Again, the portions are enough to leave you wanting more – exactly how it should be.
Next, slow cooked sole with mussel cream parcels and seaweed oil. This is a celebration of the sea, featuring fresh mussels, sea urchins and most memorably, sole skin filled with mussel cream. The seafood elements are fresh with just enough culinary magic applied.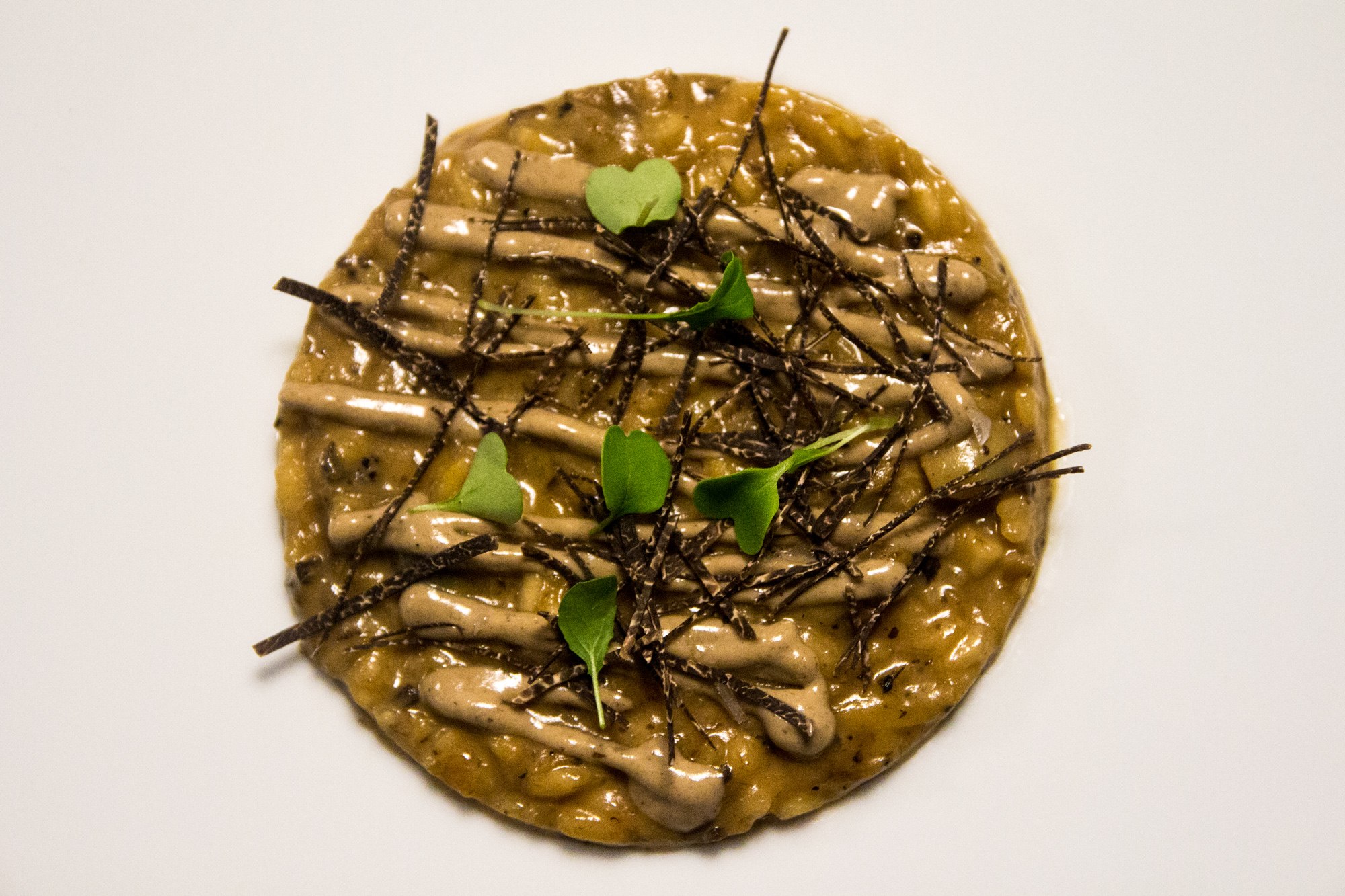 Then the meal hits peak meat, with the wagyu courses. You'll note that isn't just one wagyu dish, no no, that simply wouldn't do. First, wagyu tartar with consommé and truffle egg yolk. Initial impression? This is rich. Beyond rich, it falls into the realm of decadence. Then you're brought down to earth with the more traditional serving: three thick slices wagyu loin, cooked rare, covered with sweet demi-glace, with polenta on the side.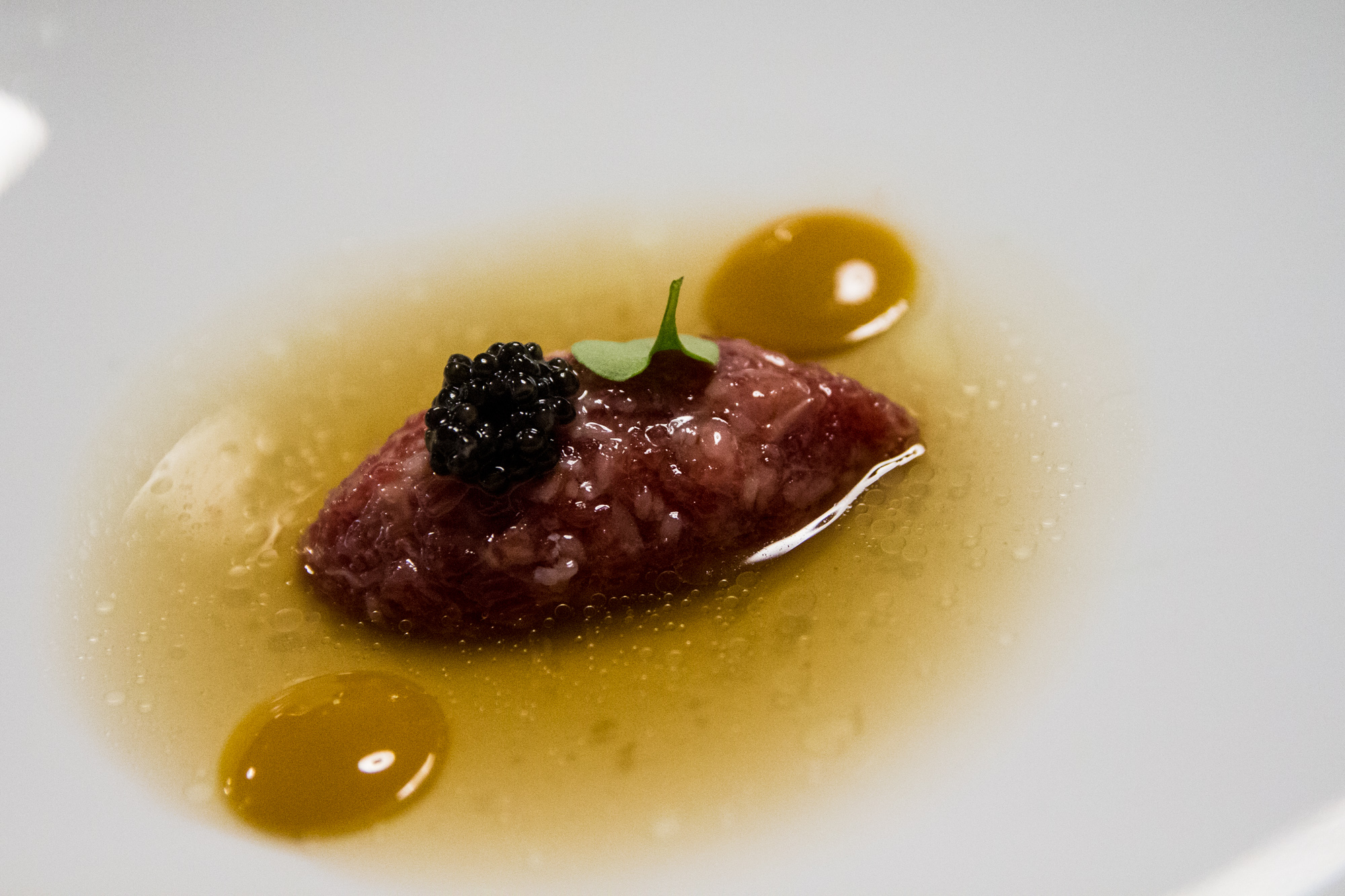 After these semi-illicit highs, we move onto desserts. First, a sponge cake made from double cream. An array of fruits are involved here, peach jelly and baked pineapple, alongside blueberry, strawberry and blackberry flavours. It's light, fluffy and the perfect follow-up to the progressively intense meat and fish courses.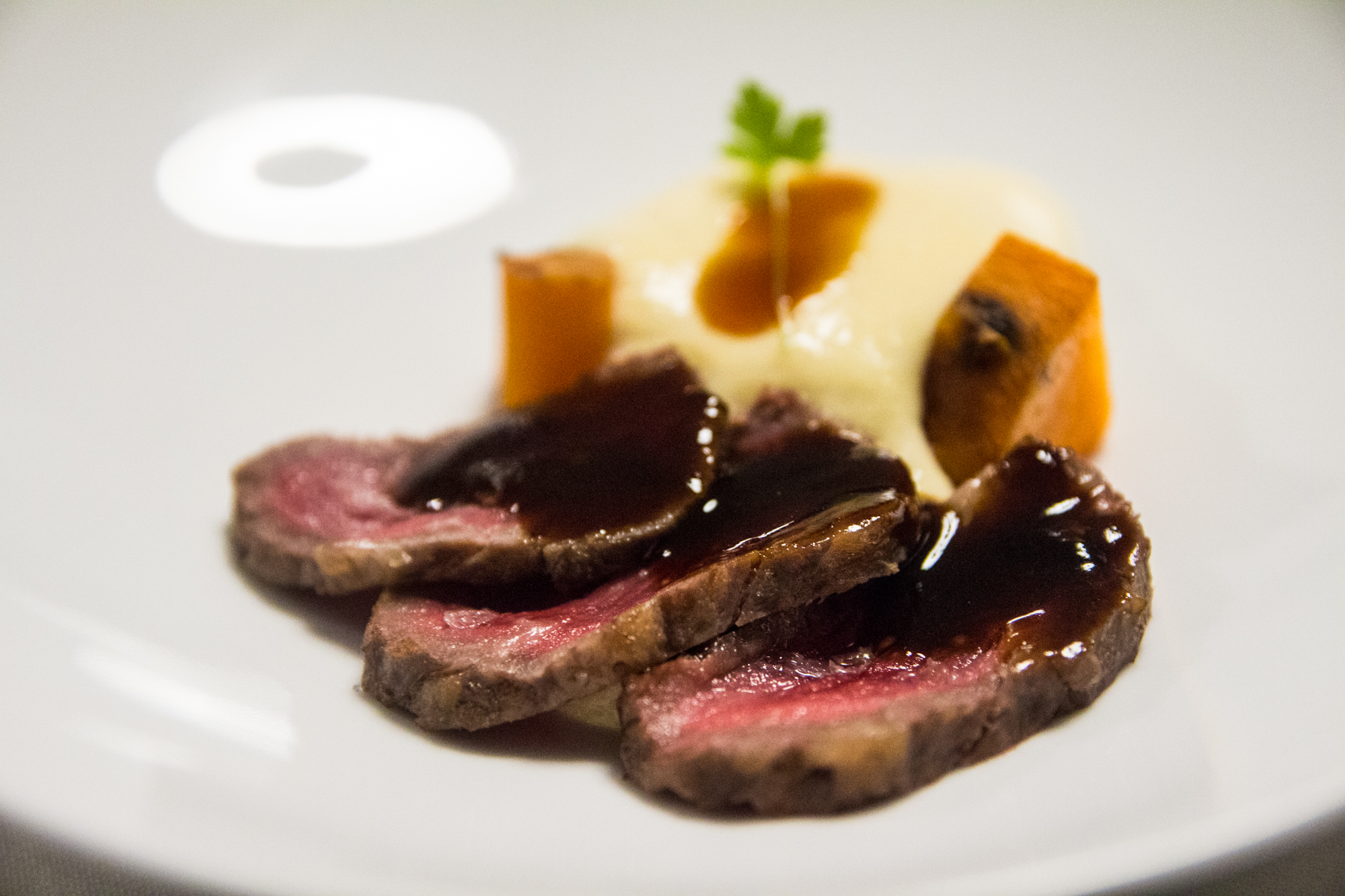 Finally, winter torrija. This is brioche soaked in chocolate, with truffle ice cream, vodka-infused whipped cream and truffle toffee. On the side there's a sauce with yet more strong creamy, toffee flavours. It's a dark heavy dish with explosions of sweetness.
And almost as an afterthought, a little tray of petit fours. Four roughly-made blobs of salted caramel chocolate truffles (the chocolate kind, not the fungus), and another set of white chocolate lumps with a strong taste of basil. Both kinds are utterly delicious and a fitting end to such an extravagant meal.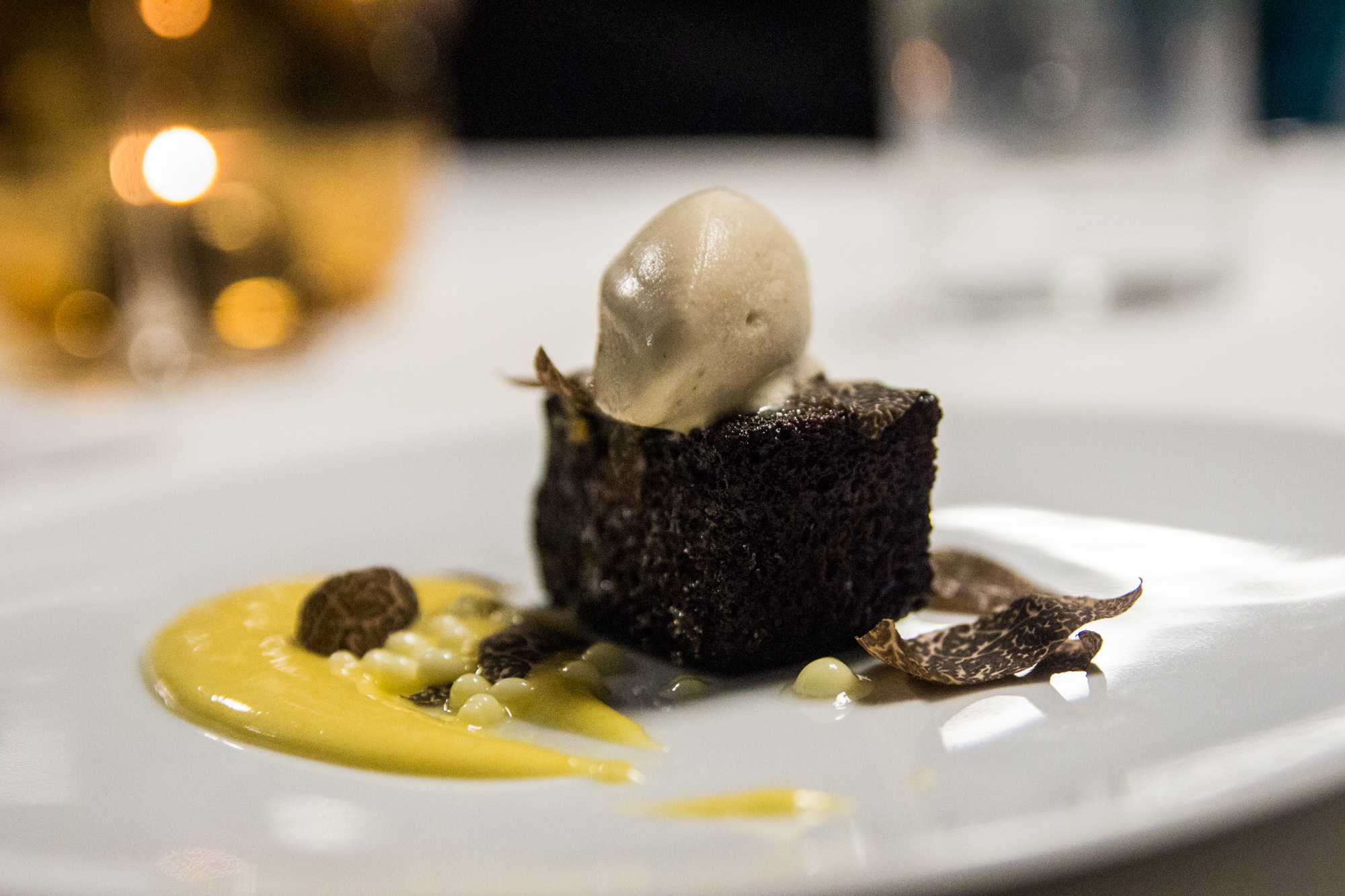 Tasting menus don't get much better than this. And compared to many of the other high-end multi-course restaurants dotted around the North, Enxaneta are doing something very different. The concept of "Mar i Muntanya" (sea and mountain) plays a key role, where both fish and meat are served on the same plate, but it goes beyond this. Despite all the eye-bulgingly innovative cooking techniques, the food feels completely organic and natural. It's not showy for the sake of it – although the dishes are certainly easy on the eye – it's more of a carefully-crafted tribute to the world's finest cuisine, matched with delicate Japanese-style concepts.
I once vowed never to mention Michelin stars and Manchester in the same sentence ever again, but let's face it – if Enxaneta are overlooked by those jumped-up tyre sellers in next year's book, they don't know their bottom from their elbow. This is one of the finest meals in the UK, let alone Manchester.