Black Dyke Mills Heritage Venue
Carmel Smickersgill, Tours & Activities Editor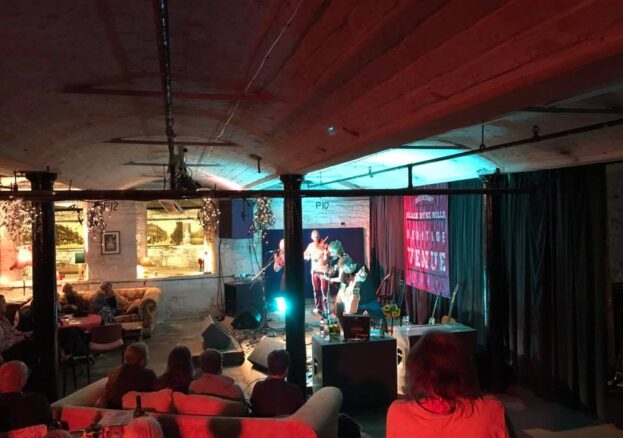 The Black Dyke Mills complex is infamous throughout Yorkshire, not only for having inspired an exemplary brass band but also for fueling the industry in the Queensbury area of Bradford. Now, it's more well known for the culture it attracts to the area, with the Black Dyke Mills Heritage Venue. This unique space is housed in Shed Mill and regularly hosts concerts, exhibitions and workshops. With a pop up bar and homemade baked goods, it's a space with the capabilities of a big city venue and the feel of a close friend's front room.
Sink into a comfy sofa with a pint of real ale in one hand and a homemade bun in the other
Having been created from the generosity of mill owners and power of volunteers, the performance space, cafe, bar and market have been created from scratch with the aim to boost the art of local creatives as well as bringing musicians and artists from further afield to the area. They prioritise new and exciting projects, regardless of whether they come in the form of a singer-songwriter, circus performance or crafts to be sold in the market.
Rather than the rigid seating of a traditional venue, Black Dyke Mills Heritage venue is the kind of place where you can sink into a comfy sofa with a pint of real ale in one hand and a homemade bun in the other. This environment encourages some of the best touring songwriters and folk musicians to want to play in the venue, expect special moments and intimate gigs. In 2018 the venue also made its first venture into the world of theatre with a performance of John Godber's Teechers, proving what a diverse and inclusive space the venue can be.
As Black Dyke Mills Heritage Venue is still more mill than venue it is advised that you wrap up warm to watch the performances. Don't worry if you feel the cold though, the bar is ready with hot homemade food and warming wintery beverages to warm your soul as well as your hands.