Aura Music Academy
Johnny James, Managing Editor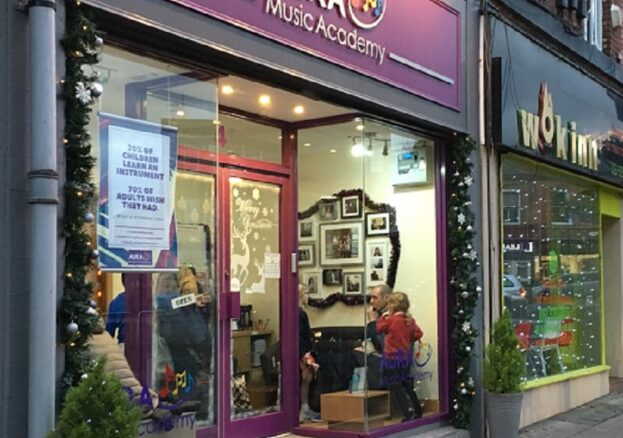 Always wanted to learn an instrument? Or maybe you're looking to build on existing skills? No matter your ability, age or goals, Aura Music Academy has you covered.
Based in the heart of Altrincham, Aura Music Academy is an innovative music education centre that places excellence and enjoyment on an equal footing. They provide music lessons of the highest standard across four floors of state-of-the-art studios, with the mission of making learning both stimulating and fun.
Aura's highly qualified tutor team (all of whom have at the minimum a Bachelor of Music Degree) deliver face to face and online lessons in piano, violin, woodwind, guitar, drums and singing. These can take the form of 1:1 or group sessions, and their focus is entirely up to you – whether you're into rock, pop, folk or classical, you'll receive expert music tuition that will fast track you towards your goals.
Making music accessible to everyone
If one of those goals is to complete a certain music exam, then Aura is a great choice. As a registered exam centre for ABRSM, you'll be able to sit your exam in the same place in which your lessons are delivered – hugely beneficial to your confidence and overall performance on the big day.
Speaking of performance, Aura offers a further dimension to their teaching programmes with a range performance opportunities throughout the year. Helping students to flourish in both confidence and musical ability, their monthly concerts are fun, friendly and supportive spaces in which to gain that all-important experience of playing in front of a live audience.
If you're looking for more 'serious' performance opportunities, the centre also has great connections with local music venues and community events, where you'll be able to showcase your hard work to a wider audience, should you wish.
Another thing that separates Aura from the crowd is their brand new, state-of-the-art recording studio. This is a great space for individual and band recordings, and will leave any hopeful recording acts with solid studio experience. In addition to their excellent teaching and rehearsal rooms, this new studio bolsters Aura's reputation as one of the finest facilities of its kind in the area.
Making music accessible to everyone, Aura Music Academy is a great option if you're looking for quality tuition in a quality space.