Albert Hall
Creative Tourist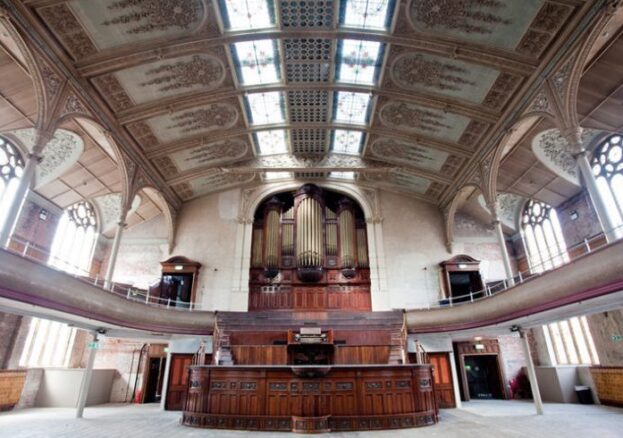 An ornate 2,000-seat hall, complete with pipe organ and stained glass windows that sat undisturbed above a nightclub for years? Yes, it's a story of old Manchester. In the new Manchester, we're quickly running out of undiscovered bits to find, fix up and fill with music, art and people. It seems we live in a time when every Northern Quarter basement is an underground venue, every deconsecrated church is a secret theatre, and every disused rail station is likely to be commandeered by an orchestra accompanied by dancing bone dust. Hallelujah!
Built as a Methodist chapel in 1910, the Grade II-listed building is notable for its Gothic and Baroque decorative features. Its two lower floors were once home to Brannigans, a bar and nightclub that was a mainstay of Manchester's Quay/Peter Street "Straight Village" in the 1990s and 2000s. Now you'll find Albert's Schloss, a cook haus, bakery, bier palace and wunderbar. Upstairs on the first floor is a hidden marvel – a gracefully curved main hall, with stepped seating, intricately carved walls and ceiling, that seats 2,000 people. At the centre is a beautifully preserved pipe organ. The place is massive, with a further floor of disused rooms and topping it all, a cupola tower with magnificent views of the city.
The building has a fascinating history. Thanks to vigorous evangelical work among the poor and working classes in the city centre during the late 1800s, the Methodist Central Hall on Oldham Street became so crowded that the church was forced to hold services in the Free Trade Hall. The building of The Albert Hall gave them a place to hold services and entertainments targeted at drawing the young and spiritually vulnerable out of neighbouring music halls, with room for classrooms, social work and meetings. In later years, the Hallé used it as a base when the Free Trade Hall was bombed in the Second World War, and it eventually fell out of use as a Methodist place of worship in 1969.
Skipping through to 2013 the Albert Hall reopened its doors to the public as the multipurpose venue we all know and love today! Playing host to festivals, gigs, club nights and private hire events such as weddings and conferences, it'll be enjoyed by generations to come even if in somewhat less abstemious circumstances than those envisioned by its original occupants: the Manchester and Salford Wesleyan Methodist Mission, whose sole aim was, in its own words, "to evangelise the outcast and to arouse to religious earnestness the crowds in city streets." Jokes about knocking back beers in a temperance hall aside, it's one of Manchester's most treasured venues, and shows here take on something that bit more special.