Yussef Dayes at The Stoller Hall
Johnny James, Managing Editor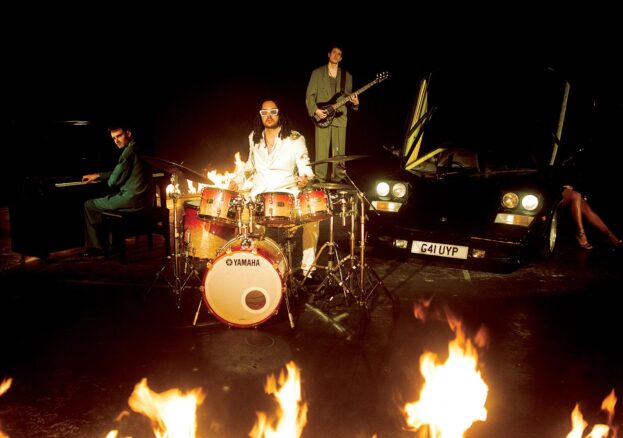 One of the UK's most exciting and innovative young drummers, Yussef Dayes is bringing his electrifying live show to Manchester's Stoller Hall on 7 November. Joined by long-time collaborators Rocco Palladino and Charly Stacey, the band will be performing some of the bigger moments of Yussef's back catalogue alongside new, unheard music.
Though largely considered a jazz drummer, Yussef's sound melds everything from 70s funk to Senegalese percussion to UK grime. The unifying factor is a fluid, vital energy. Growing up in South East London, Yussef began his musician journey listening to his dad's jazz records, and playing with his brothers from age four, when his was given his first drum kit. He went on to study under the legendary Billy Cobham, while performing with his brothers in Afrobeat and rock-influenced jazz outfit United Vibrations. His breakthrough moment came with Yussef Kamaal – a collaboration with Kamaal Williams that was lauded for its ground-breaking pairing of '70s jazz funk and the bass-heavy sounds of London club culture.
A kaleidoscopic journey that speaks to the past, present and future of jazz
It was a shock when the pair announced the end of that project, just two days after they won 2017's Breakthrough Act award at the Jazz FM awards. But things make more sense now – the end was in fact the beginning of two flourishing solo careers. Yussef's first solo release was the whirling, unfathomably tight 'Love is the Message', which saw him perform with the brilliant Alfa Mist (keys) and Mansur Brown (guitar). Next came an album with singer and producer Tom Misch. Critically revered and charting at number 4, What Kinda Music (Blue Note) moved fluidly through progressive jazz, vintage hip hop and sleek electronica, in a marriage of virtuosity and accessibility.
Yussef's latest project sees him step further into the limelight as one of the UK's most gifted and chameleonic drummers. The Yussef Dayes Experience is a trio featuring long-time collaborators Charly Stacey (keys) and Rocco Palladino (bass) – both incredible players in their own right. The group's first release – 2019's two-track EP Duality – was a showcase of Yussef's ability to construct pieces that are both captivating and melodic from behind the kit. The keys and bass shine equally brightly, with Charly Stacey leaning into the cosmos and Rocco Palladino into the pocket as they deliver a hard-hitting blend of funk, hip-hop, jazz, soul and electronica.
Interstellar thrills from start to finish
Touring the project extensively in 2019, the trio recorded a live album in Copenhagen, capturing on tape what would be – unbeknown to them at the time – their last concert together before the world was hit by Covid 19. Made up of largely unreleased material, that album – Welcome To The Hills – is absolute fire, and highlights the telepathic interplay between these three musicians. From dizzying, Herbie Hancock-influenced fusion to dub, acid-jazz and funk, it's a kaleidoscopic journey that speaks to the past, present and future of jazz. Only 'Gully Side' and 'For My Ladies' ease back on the tempo – the rest operates in hyperdrive, serving up interstellar thrills from start to finish.
If you need any proof that these are some of the best musicians operating in the UK jazz scene, have a listen to that album. You'll soon be on The Stoller Hall's website, scooping tickets for their show on 7 November.