Alfa Mist at Gorilla
Johnny James, Managing Editor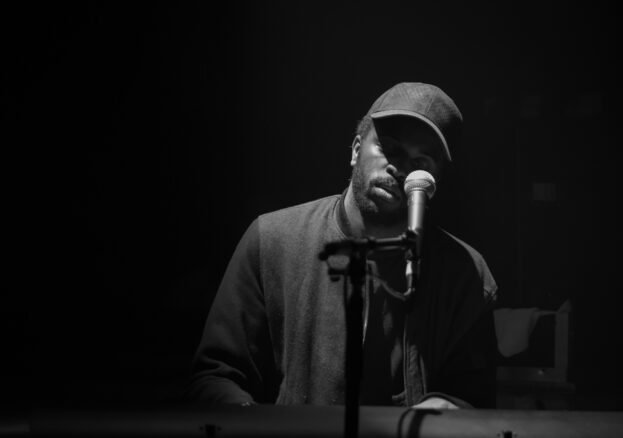 Inching ever closer to the likes of Kamaal Williams and Shabaka Hutchings, Alfa Mist is an increasingly significant player in London's flourishing jazz scene.
A thing of deep catharsis, best enjoyed in the quiet of the early hours.
Marrying soulful hip-hop with jazz harmony, the young pianist and producer started carving out his distinctly London-tinged style back in 2015 with debut EP, Nocturne. Melancholic and introspective, this soundtrack-worthy collection of night-time musings put him on the map, helped along by the collaborative efforts of people like Tom Misch and Jordan Rakei. The track 'No Peace', featuring Misch, is particularly smooth, and like many tunes on the album is a thing of deep catharsis, best enjoyed in the quiet of the early hours.
Two years later and it was time for Antiphon, a record in which Alfa really laid himself bare. Structured around intermittent conversations between the artist and his brothers about family, respect and mental health, Antiphon feels like a refuge for Alfa and his openly-admitted struggles with depression and insomnia. With a core instrumentation of mellow Rhodes, exploratory, snare-led percussion and simple, dulcet guitar, the album is a gorgeous expression of loneliness, and by its close, you feel reluctant to untangle yourself from its warm embrace. The eerie and sprawling 'Potential' is particularly great, as is '7th October', a track in which Alfa, with impressive dexterity, turns his hand to rapping.
After a couple more singles in 2018, including a lovely collaboration with Yussef Dayes, Alfa released details of his next album earlier this month. Named after the theoretical breakdown of the basic elements of conscious experience, Structuralism is based around conversations between Alfa and his sister which explore the East London artist's battles with self and the societal pressures that inform our own conscious experience. Its lead single 'Retainer' is as meditative, probing and as eloquent as his best work. A track of two halves, it opens with a Blue in Green-esque trumpet-led groove, before a cinematic string section mournfully re-imagines the material and the track spirals into an emotionally-drenched guitar and piano improv. It really is stunning, and an exciting sign of things to come from Alfa.
The album will be out on the 26 April, well in time for you to get to know it before his gig at Gorilla on the 17 May. Don't miss your chance to catch this young artist hitting full stride.