Annie Morris: When A Happy Thing Falls at Yorkshire Sculpture Park
Sara Jaspan, Exhibitions Editor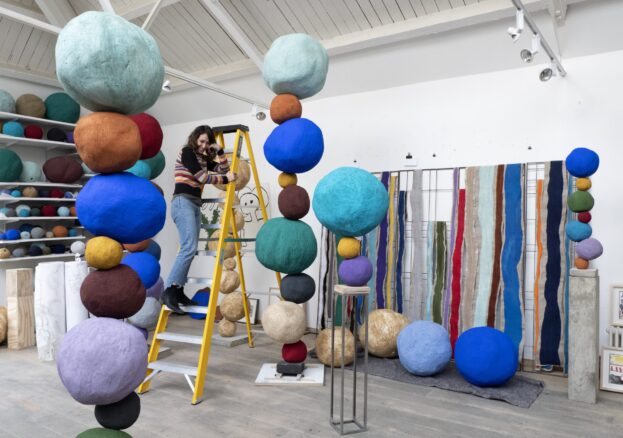 Step into the Weston Gallery at Yorkshire Sculpture Park this autumn/winter and be engulfed by a dense and towering forest of strange, luminous sculptures. Annie Morris' signature 'Stacks' – made of bronze casts that read like brightly coloured boulders, precariously balanced on top of one another – speak to both instability and affirmation, referencing the fragility that dominates all of our lives. The artist first began making these works in 2014 as testimonies of grief and loss following the loss of her first child, who died before birth. Yet they have since morphed into uplifting symbols of life, hope and creativity, painted in vivid hues, such as ultramarine, viridian and ochre, using hand-sourced, raw pigments. In the artist's own words, these 'abstract paintings' are 'about holding onto something that's fallen, and expressing the hope and defiance of life.' To walk among is a moving experience.
The sculptures have been created specifically for Morris' YSP exhibition, and are presented alongside one of her tapestry-based works. These 'thread paintings' combine personal ciphers with mark-making and grid-like structures, resulting in a unique overall effect that sits somewhere between abstraction and figuration. The gallery installation is intended to reflect the energy and raw creativity of Morris' London-based studio, in which works co-exist in various stages of creation – suggesting the same sense of evolution that inspired the artist's great admiration for Barbara Hepworth's sculpture, 'The Family man', currently on long-term display at YSP. A monumental open-air bronze sculpture by Morris will also be sited outside the gallery windows in relation to the landscape beyond.
When A Happy Thing Falls is the artist's first major solo exhibition in the UK and timed to coincide with her exhibition at Timothy Taylor Gallery and inclusion in Frieze Sculpture 2021.