The Tiger who Came for Tea Garden Trail at Tatton Park
Shekina Rose, Families Editor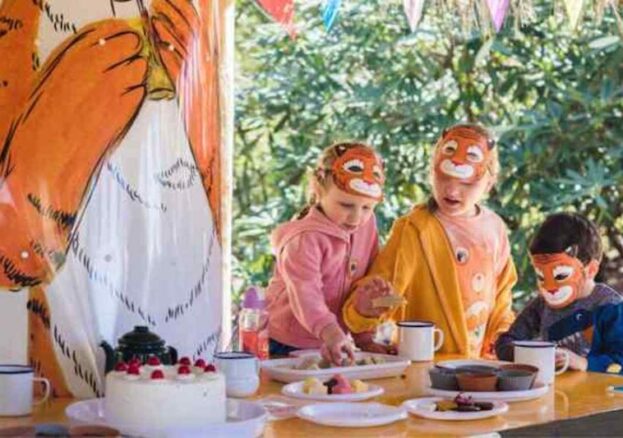 Enjoy a special outdoor adventure this summer at The Tiger Who Came to Tea Garden Trail at Tatton Park. Spend some quality time in nature and immerse yourself in the great outdoors, while also getting lost in the classic tale by Judith Kerr of the 'big, furry, stripy tiger' who has turned up for tea at Sophie's house and is feeling peckish, to say the least.
On arrival, pick up a trail pack which includes a tiger mask for your little one to wear as they prowl through Tatton Park's beautiful gardens. Other fun activities include playing in Sophie's Kitchen (if that greedy tiger has left anything), and collecting some teatime favourites along the way. You might also want to get a picture with the big and scary (or not so scary) tiger who's hanging around the woods, and on the hunt for both food and some friendly company!
After you've finished The Tiger Who Came to Tea Garden Trail, there's loads more to do at Tatton Park to make it a full day out that will leave the kids both very happy, extremely worn out and ready for a good night's sleep! Visit the old magnificent mansion and explore the grand rooms and long corridors. Kids (and big kids) might enjoy playing dress up in servants' uniform and trying their hands at servants' duties. You can also listen to the servants' voices, while investigating cellars and suites and kitchens that make up the massive and beautiful house.
Following the mansion visit, you might also want to wander through 40-acre farm, with a woodland play area, den building and lots of animals, including several rare breeds, to cuddle and say 'hi' to.
Hungry? There's picnic spots all across the gardens, as well as a tea room and stables selling delicious Tatton Park produce. You might also want to take a few pennies to spend at the housekeeper's store, tuck shop, gift shop, and garden shop, which between them sell all sorts of edible and non-edible goodies!