The Sheffield Radical Film Festival at Sheffield Quaker Meeting House
Tom Grieve, Cinema Editor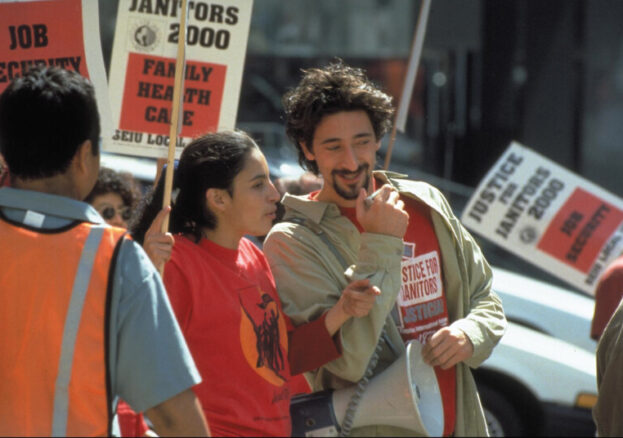 As popular art, easily reproduced and distributed to mass audiences, the movies have always been a potent medium for political ideas. Roger Ebert called them an "empathy machine", Hollywood once blacklisted those with radical leanings, and countless filmmakers have used the big screen to demonstrate ideas of cooperation and solidarity in action.
This May, Community Kino and the new Sheffield Radical Film Festival have put together a double bill dedicated to exploring strike action on screen. The event will be held at Sheffield's Quaker Meeting House where two films by British film director Ken Loach will be accompanied by opportunities for audience participation.
First up is the filmmaker's 2000 union-themed Bread and Roses. Set in Los Angeles, the film follows Maya (Pilar Padilla), an undocumented immigrant from Mexico who finds work as a janitor. Suffering from abuse and poor working conditions she finds herself sympathising with Adrien Brody's union organiser – something that is dangerous considering her immigration status.
Bread and Roses is complemented by a discussion on working class fightback held by Sheffield TUC, and then followed by another Loach film, the 2013 documentary The Spirit of '45. Charting the radical changes implemented in post-war Britain by Clement Attlee's Labour government, the doc will be accompanied by a workshop with Sheffield Transformed.