The Secret Seven at Storyhouse
Gemma Gibb, Associate Editor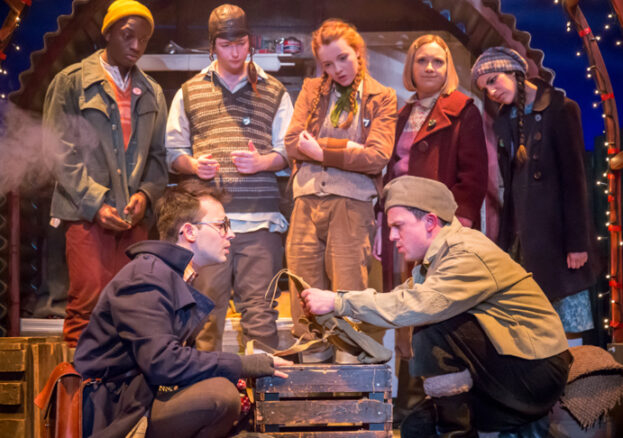 The country's newest theatre is continuing to stake its claim to be one of the most exciting new cultural spaces for families with a world premiere, and the first ever stage adaptation, of Enid Blyton's The Secret Seven.
This classic tale is enduring for all the right reasons. A group of child sleuths and friends with different strengths, amusing weaknesses and the most vivid of imaginations solving mysteries through bold teamwork is relatable to kids (and their grown-ups) today. In a rare deflection from much of Blyton's world, this renegade lot don't even go to boarding school.
Expect adventure and scrapes galore as the first book in the series is reimagined for Storyhouse's unique "thrust" stage, where the audience surround and feel part of the action on three sides. Follow the tale of curious clues which lead the motley crew through the village of Cherrydale with encounters at a haunted house and many mysteries to be solved.
The Secret Seven promises to be edge-of-the-seat stuff in a refreshing departure from much less adventurous (in every sense) children's theatre. It will be brought to life by a stellar team including a cast drawn from Storyhouse's talented rep company (the largest in the North of England), Artistic Director Alex Clifton (also co-founder of award-winning Grosvenor Park Open Air Theatre), designer James Perkins (Sweet Charity, Royal Exchange),  playwright Glyn Maxwell (Alice in Wonderland, The Wind in the Willows, Storyhouse) and original score by Harry Blake (West Yorkshire Playhouse).
We love that this new attraction, which also houses Chester's library, a cinema, bar and restaurant within a state-of-the art stunning redeveopment of the city's Grade II listed art deco 1936 Odeon cinema, is living its ethos by bringing the power of storytelling into the heart of the historic city. Secret Seven material and events will be woven into the fabric of the building, through the library and beyond.
Still less than a year old, Storyhouse is a shining example of  a truly holistic way of firing up the imagination and creating exciting new cultural experiences for kids young and old.
Right, we're off to find our magnifying glasses.