The Other Side of Hope at HOME
Tom Grieve, Cinema Editor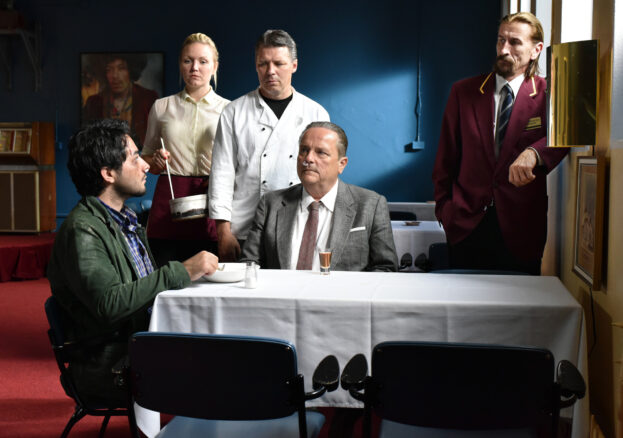 The new film from Finnish auteur Aki Kaurismäki follows on from 2011's art-house hit Le Havre as the second part of what is set to be a loose trilogy about port cities. Switching the action to Helsinki, Kaurismäki divides his focus between an cranky ex-shirt salesman turned thrifty restaurateur named Wikström, and Khaled, a Syrian refugee who has arrived filthy and hidden aboard a large commercial ship. Those familiar with Kaurismäki's work will know to expect plenty of deadpan humour, Finnish rockabilly, drab interiors and communal warmth.
Khaled isn't especially happy to find himself in Finland; it's just less bad than the places he has been prior. He's desperate to find the sister he lost at the border, and bluntly tells an immigration officer that he no longer matters as he recounts the basic facts of his recent history: his fiancée died, his extended family was killed in Aleppo by a missile fired by unidentified forces – he doesn't know whether it was the government, rebels, ISIS, the US or Russians troops – and he's been chased out of Poland by Nazi thugs. These details don't amount to much apparently, and when the danger is not deemed sufficient for him to be granted leave to stay, he promptly jumps the fence at the refugee facility.
This is where the film's parallel tracks converge. Khaled and Wikström engage in a brief punch-up at the back of Wikström's restaurant The Golden Pint ("Want to fight?" asks Khaled, "But I'm bigger than you?!" comes Wikström's disbelieving reply), before the latter shows mercy and provides the former with a forged identity and a job amongst the other kindly misfits at his newly acquired establishment. The Other Side of Hope is filled with such moments of deadpan humour; including a hilariously inept attempt to reinvigorate the fish-and-potatoes Finnish restaurant as a sushi place and a sad breakup that's made absurdly funny by the simple placement of a rotund cactus.
What marks Kaurismäki's approach as special is its brute simplicity. This is not an impassioned call to arms, or desperate attempt to grab viewers by the heartstrings. It is instead a matter-of-fact depiction of what it is to show empathy, humanity and courage in the face of extreme horror. The Other Side of Hope pokes at Kafkaesque absurdism, and doesn't shy away from exposing the raw hatred of the far right, but Kaurismäki's vision results in a film of overwhelming warmth, where unlikely communities coalesce and individual acts of compassion show us the very real ways in which we can work to undermine nightmarish bureaucracy and intolerance.