Take On Me at Broughton Leisure Centre
Kristy Stott, Theatre Editor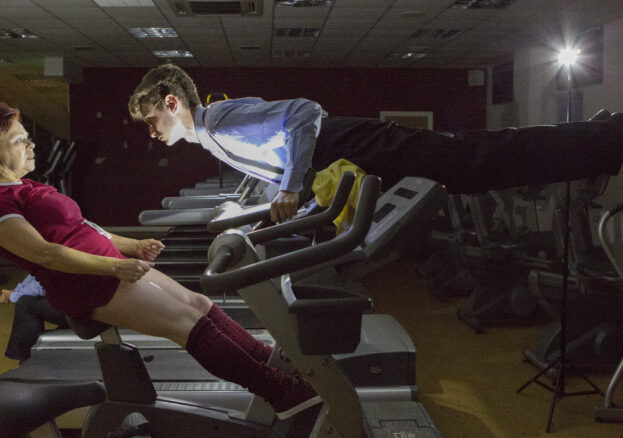 Dante or Die champion performance in unusual locations – places where you would not normally expect to stumble across a theatrical performance. Previous work has seen hotel rooms, cafés and self-storage units transformed from their ordinary, everyday purpose into vivid performance spaces which celebrate human experience. Their latest production Take on Me is a promenade performance which will take place after hours at Broughton Leisure Centre, Salford.
Following a lonely woman's journey to the gym for the first time and a lifeguard who has never saved anyone's life, Take on Me is set during the keep-fit whirlwind of the 1980's – expect plenty of spandex, leg warmers and sweatbands. Packed with nostalgic 80's chart-toppers including I Wanna Dance with Somebody and Flashdance, the audience will be led through the changing rooms, aerobics sessions, the gym and to the poolside. Occupying a unique fly on the wall position the audience will share an extraordinary position in these people's lives, as well-known personas from 80's films appear out of nowhere to change the course of fate.
Most interestingly, the production will see the core company of performers joined by a guest cast of local volunteers. The ensemble of local people will play various roles in the show, including leisure centre staff and poolside spectators, as the audience are invited to move around the leisure centre.
Take on Me is an 80-minute-long promenade performance, which moves the audience around the leisure centre and involves some periods of standing. The show also contains some strong language and some brief full-frontal nudity and is recommended for those over the age of 15.
Pleasingly, Take on Me has British Sign Language integrated into the show using a hearing BSL Communicator, who will be present at every performance.
Dive in at the deep end – we think that you'll never look at your local leisure centre in the same way. Ever. Again.