The Storytelling Bus at Square Chapel
Gemma Gibb, Associate Editor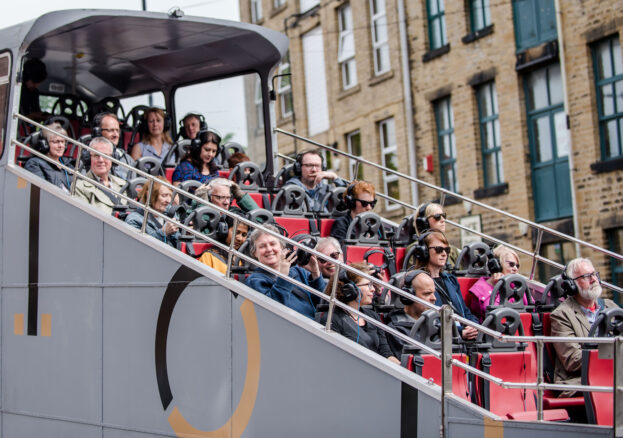 Step on board The Storytelling Bus for an alternative sightseeing tour which uses the real-life streets of Halifax as its backdrop.
Wearing headphones, take an extraordinary 30-minute journey on a special custom-built double-decker bus to hear poignant, funny and surprising personal stories written and read by the people who experienced them, with music composed by Katie English.
Aged from 8 to 80, experience the landmarks of this historic town through the filter of their real-life stories.
---
IOU's 2018 live show Rear View used the same bus, captured in 360° video.
---
IOU is a thriving, international creative organisation based in Halifax with over 40 years experience of producing highly original live performance and contemporary art installations. Combining different art forms with innovative technology, IOU present brand new work in unconventional indoor and outdoor spaces as well as established touring venues and galleries.
Check out their current Patternarium exhibition at Eureka! too.
The Storytelling Bus is presented in partnership with Square Chapel and The Piece Hall. The bus was conceived, designed and made by IOU in Halifax and is the only one of its kind in the world.
The Storytelling Bus will run every weekend until Sun 7th July with tickets bookable for hourly slots between 11am and 4.30pm. It's suitable for age eight and above. They are prepared for any weather too with a canopy and ponchos for even the rainiest of days.