Splash Fiction at Victoria Baths
Sarah-Clare Conlon, Literature Editor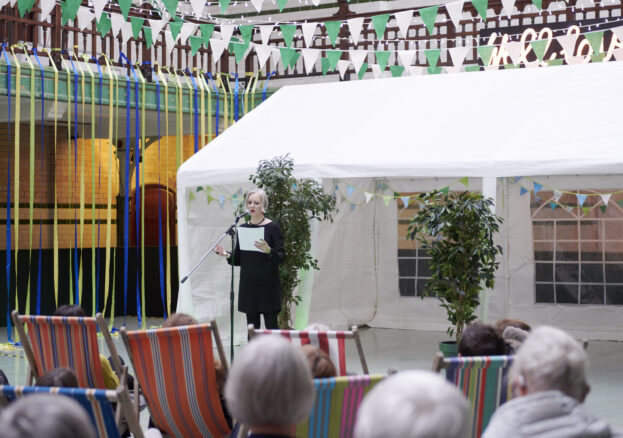 The amazing Grade II* listed Victoria Baths are following up the first-ever Weekend of Words festival back in June with this special September pop-up. Then, participants let their imagination run wild in three separate two-hour writing workshops, including flash fiction with Synaesthesia magazine's Resident Writer Tania Hershman (seen recently at a Peterloo reading and also at Didsbury Arts Festival), while a poetry panel explored the theme of water and six specially written short stories inspired by the building were performed by writers Kate Feld, David Gaffney, Phil Olsen, Joe Stretch and Lara Williams, whose much anticipated debut novel, Supper Club, just hit the bookstands. The new fiction was commissioned by the Baths' inaugural Writer-in-Residence, Sarah-Clare Conlon, and this September event sees her present some more of the work she has been producing in that role.
This will be only the third time public swimming has been held at Victoria Baths in 26 years, so it's well worth popping by
The Splash Fiction event forms part of Victoria Baths' annual two-day Swim For Restoration shindig, when the Gala Pool is filled and members of the public can take the plunge. You're too late for swimming (no running, please – tickets went on sale last month and sold like hot towels), but you can visit the bathhouses for free and look around while there is water. Join other spectators in the balcony seating overlooking the Gala Pool – there is also a Swimming Showcase on Saturday evening featuring swimmers from Manchester Grammar School, Manchester High School and Stretford Water Polo Club, with tickets costing £15 to raise money for more much-needed maintenance to the stained glass windows. It's the perfect opportunity for seeing the Baths after hours and the bar will be open so it's a fun alternative Saturday night out. This will be only the third time public swimming has been held at Victoria Baths in 26 years, so it's well worth popping by to see the pool in action.
The Saturday-afternoon reading event will also see the Writer-in-Residence presenting a prize-giving ceremony for the winner and runners-up of the summer Splash Fiction creative writing competition, so it'll be your chance to hear even more brand-new pieces. Victoria Baths is inviting entries for this until midnight on Sunday 4 August – send in short-short stories on the theme of water, up to 300 words long. The judges are on the lookout for short stories that make a real splash – take municipal baths, lidos, wild swimming, ponds, water parks, rivers, canals, indeed anything watery as your jumping-off point and dive in. There's a cash prize up for grabs! Full entry details can be found here.