Soccer96 at YES
Johnny James, Managing Editor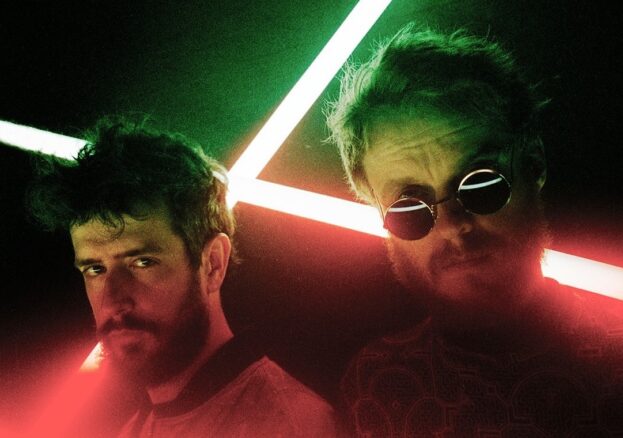 Over nearly a decade, Soccer96 have metamorphosed from a punk-spirited DIY outfit to cosmic dreamers who use sound to travel the mind. The duo's latest album of fiery astral jazz cuts represents their best work yet, making it a great time to catch them live at YES on 16 October.
You might know Soccer96 – Danalogue (Dan Leavers) and Betamax (Max Hallett) – better as being two thirds of Mercury nominated band The Comet Is Coming. If not, you've probably heard Danalogue's production work somewhere along the way – on the likes of Snapped Ankles, Ibibio Sound Machine or Bo Ningen. The pair have many musical tentacles, but Soccer96 represents something of a creative home, one whose door is open to influences as diverse as Boards of Canada, Roots Manuva and Squarepusher.
That door has also, of late, been open to various collaborators. Poet and saxophonist Alabaster dePlume featured across the duo's excellent 2020 EP Tactics, embodying the voice of a disaffected generation, his vocal performances a sardonic take on the hypocrisies of the leftist ideal. The music was equally impassioned, irrepressible, combining motoric synths with scorching beats and celestial atmospherics in a delicate balance of dark and light, punch and groove.
The duo's latest album, Dopamine, released on 21 September, is another banger, this time preoccupied by humanity's ever-increasing entanglement with technology and artificial intelligence, balancing fears and moral concerns with the possibilities of evolution's next phase. The title track – a heady, cosmic squelcher – features vocals from art punk artist Nuha Ruby Ra, whose recent EP How To Move has been turning a lot of heads. Here, she sings from the perspective of the human while Soccer96 embody the machine – specifically addictive tech, luring the helpless human deeper into an irreversible symbiosis. Elsewhere we get a collaboration with Salami Rose Joe Louis, a musician, composer, producer and planetary scientist signed to Brainfeeder. Conjuring a totally different vibe to the above single, 'Sitting on a Satellite' is a moreish slice of spacey soul-jazz.
Uniting both tracks — and the album as a whole — is their construction. The adrenaline that's imbued into every track is a result of improvisation being at the heart of Soccer96's creative process. And while this raw energy is thrilling on record, it's clearly made for the stage, where they play everything completely live, with no laptops, sequencers or software of any kind. It's a recipe for live electronic music that's truly exciting, impulsive, dangerous.