Sixteen's Choral Pilgrimage 2019 Voices of Angels at The Bridgewater Hall
Carmel Smickersgill, Tours & Activities Editor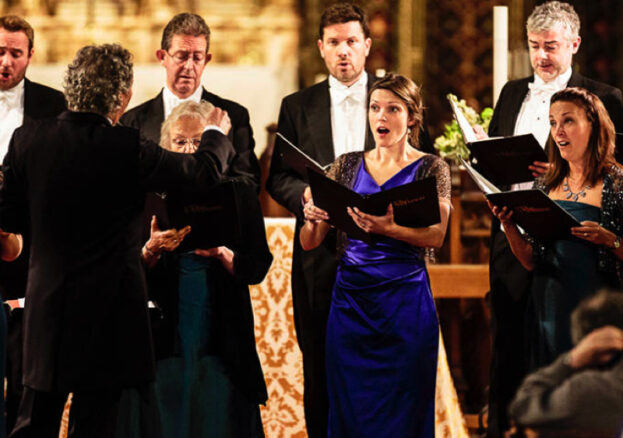 The Sixteen have established themselves as one of the UK's leading vocal ensembles. With their richly blended sound and the meticulous attention to detail they put into every piece, their programme of contemporary choral offerings and well established pillars of Renaissance and Baroque sacred repertoire will bring you into a world of delicious harmony. As well as holding an ongoing artistic residency at the Wigmore Hall and being artistic associates of Kings Place they are associate artists of The Bridgewater Hall too. This season they are bringing their Choral Pilgrimage to Manchester with a programme of sacred music spanning seven centuries.
Starting with an anonymous setting of Salve Regina, the ensemble move through religious offerings from two of the most notable English composers of the renaissance era. John Tavener's hymns and John Sheppard's setting of the Gloria introduce an older sound world of dense polyphony and complex structures. It is music you can get lost in or let wash over you in waves of counterpoint. In contrast, these pieces are followed by Eric Whitacre's Sainte-Chapelle, a plainsong inspired setting with very listenable melodies, creative use of space and of course Whitacre's trademark close harmony.
The program then returns to The Renaissance with Wilkinson's Salve Regina, Fayrfax's Laudis Lilium and the Agnus Dei from John Sheppards Cantate Mass, the same setting from which the previous Gloria is taken. Sandwiched between these rich choral textures is Gabriel Jackson's Ave Maria, an ethereal and modern setting of the well-known text.
Completing the concert is a new commission from the Scottish composer and conductor James MacMillan. With strong influences from folk music and the British choral tradition expect melodic beauty and delicate textures. The new piece is a setting of combined religious texts and is based on a musical fragment by Renaissance composer Robert Wilkinson.
The Sixteen have developed their sound over decades so that they can bring to light the power of both the old and new repertoire.