Rachel Kneebone: 399 Days at Yorkshire Sculpture Park
Sara Jaspan, Exhibitions Editor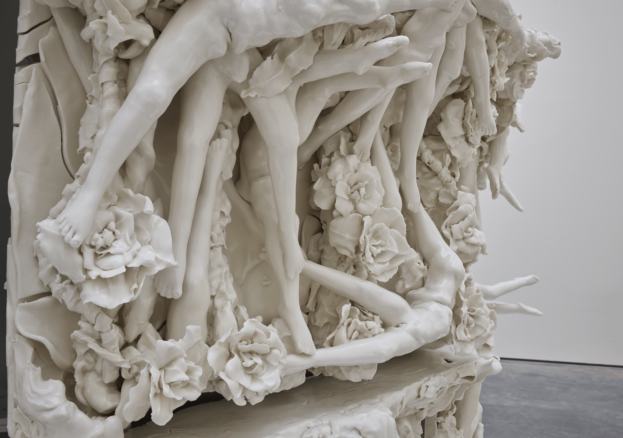 The unique setting of Yorkshire Sculpture Park's 18th-century chapel offers a remarkable space in which to encounter contemporary artist Rachel Kneebone's most ambitious sculpture to date.
Titled after the length of time it took to single-handedly make, 399 Days (2012-13) is a towering porcelain sculpture inspired by masterpieces from the world of antiquity, such as Trajan's Column. Its mesmerising, metamorphic quality is typical of Kneebone's highly detailed style, which borders on the florid. The tumbling, swirling mass of forms that decorate its surface evoke the female human figure, yet each one dissolves on the cusp of full materialisation, melting into a backdrop of flowers, orbs and other organic matter.
The work can be viewed from up-close at ground level or from the elevated perspective of the Chapel's gallery, where drawings from the artist's Ovid in Exile (2016) series will also be on display. The body of work responds to one of the great mysteries of antiquity – the story of why the poet Ovid was banished from Rome in 8 CE – which Kneebone regards as being emblematic of the human condition, the creative and destructive impulses. These drawings will be shown alongside a new series of sculptures that the artist has created especially for the exhibition, where tendrils, folds, ribbons and spheres fluidly interweave, creating a vine-like structure which protrudes from the wall.
The exhibition forms part of YSP's 2021-22 programme, which focuses on the work of pioneering female artists. Other highlights include Portuguese artist Joana Vasconcelos' solo exhibition, presented in the Underground Gallery, and Breaking the Mould: Sculpture by Women since 1945 in Longside Gallery.