Psappha: Music for Sitar (In Focus) at Hallé St Peter's
Johnny James, Managing Editor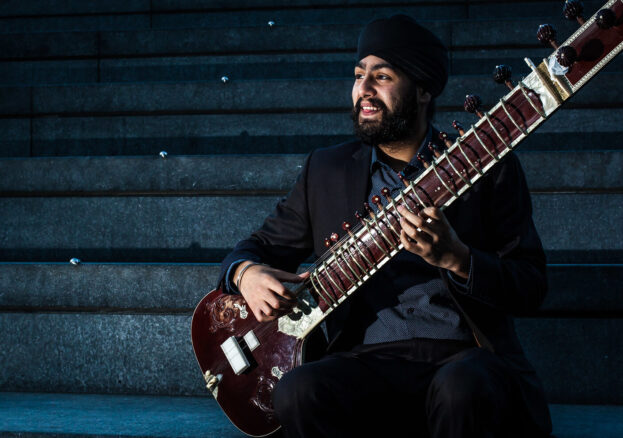 Atefeh Einali Invisible World premiere
Errollyn Wallen Five Postcards
Raag for Sitar and Tabla
Gary Carpenter Fischietto è Morto
Ninfea Cruttwell-Reade Patdeep Studies World premiere, Psappha commission
The second half of Psappha's 2020-21 season throws the spotlight on instruments that usually remain in the concert hall shadows. Livestreaming from Hallé St Peter's, Psappha will be joined by Jasdeep Singh Degun, who leads a double life as a sitar virtuoso and a contemporary classical composer. His refined expertise in the Indian classical, western classical, and contemporary music styles makes him the perfect fit for this wonderfully varied Psappha programme, which features music by Atefeh Einali, Errollyn Wallen, Gary Carpenter and Ninfea Cruttwell-Reade.
Music for Sitar will open with the world premiere of a solo work by Atefeh Einali. The Iranian-born, Manchester-based composer enjoys combining traditional Persian musical practices with contemporary Western ones. In her most recent piece, Invisible, she also draws on Indian raag, a melodic framework for improvisation that she combines with the Persian modal system, dastgah. Einali draws 'invisible' threads between these musical worlds, and in doing so, uncovers haunting new atmospheres.
Next in the programme is a duo for violin and viola by Belize-born British composer and singer-songwriter, Errollyn Wallen. Named by The Observer as a 'renaissance woman of contemporary British music', Wallen has been commissioned by some of the most prestigious music institutions in the country, having just recently reworked Jerusalem for the Last Night of the Proms. From her illustrious catalogue, Psappha has chosen Five Postcards, a quintet of tenderly lyrical miniatures that fuse contemporary and popular styles.
Onto another polymathic composer: Gary Carpenter. A longstanding British composer of concert music, operas, musicals, ballets, film scores and radio music-dramas, Carpenter's career highlights include acting as Music Director of Robin Hardy's 1972 film The Wicker Man and having his piece Dadaville premiered at The First Night of the 2015 Proms. His Fischietto è Morto takes inspiration from the tradition of clowning, an ostensibly comedic art form that also has associations of tragedy, fear and violence. Carpenter channels this ambivalence into a wild, slippery work for trombone and strings.
Lastly, we'll hear a world premiere by Glyndebourne composer-in-residence, Ninfea Cruttwell-Reade. Composing for old, new, and damaged musical instruments, her past projects have included works for symphony orchestra, viols and theorbo, a homemade glass harmonica, the Princeton University carillon, and a fire-damaged piano. The Scottish composer and cellist is this year's recipient of Psappha's prestigious commission in honour of its former patron, Peter Maxwell Davies, for which Cruttwell-Reade has written a major new piece for sitar, strings, piano and percussion.
Music for Sitar is set to be a stand-out concert in Psappha's 2020-21 season. Tom McKinney from BBC Radio 3 will present the concert on YouTube – watch live on the night or catch up on demand for seven days after the livestream, all for free.