Psappha: Music for Accordion (In Focus) at Hallé St Peter's
Johnny James, Managing Editor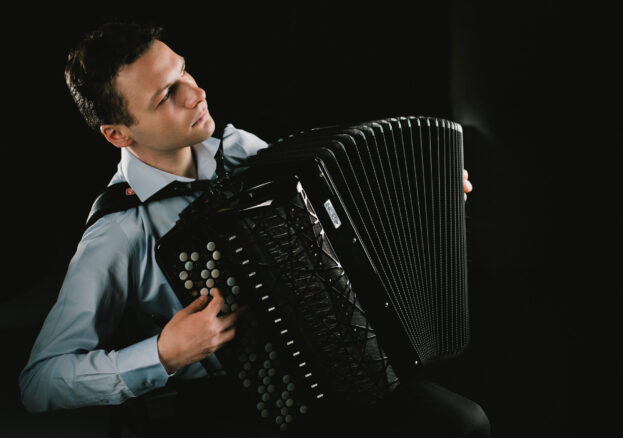 Athanasia Kontou systole/diastole (in a heartbeat) World premiere
Bethan Morgan-Williams Traces of a Disco
Anthony Gilbert Rose luisante
Ryan Latimer Slink and Stride World premiere
Hans Abrahamsen Three Little Nocturnes
Helmut Lachenmann Toccatina
David John Roche New work for accordion World premiere, Psappha commission
To close Psappha's 2020-21 season, world-class accordionist Miloš Milivojević brings out his box of tricks and guides us through a variety of music written for this unexpectedly versatile instrument.
Lauded by The Times as a "hurricane of imaginative invention", Serbian born Miloš Milivojević is one of the finest accordionists of his generation. His versatility in performing different genres including classical, tango and Balkan music leads him to be in constant demand throughout the UK and abroad, and has seen him win first prizes at International Competitions in Germany, France, Italy and Denmark. With Psappha, Milivojević will perform works by established contemporary classical composers including Anthony Gilbert, alongside world premieres of new works by young composers Athanasia Kontou, Ryan Latimer and David John Roche.
Two highlights of the programme are Rose luisante (2003) by British composer Anthony Gilbert and Three Little Nocturnes (2005) by Copenhagen's Hans Abrahamsen. The former is a radiant solo accordion work inspired by a window in Bayeux Cathedral in Normandy. It juxtaposes long, slow chords with fast filigrees that remind us of light dancing through coloured glass. The latter, written for accordion and string quartet, is a set of three miniatures that pair shimmering string harmonics with the accordion's gentle wheezing and oom-pah-pah folk rhythms.
We also look forward to several exciting world premieres by young composers. Closing the concert is a piece by British-Welsh composer David John Roche, whose catalogue includes works for vacuum cleaners and orchestra as well as pieces for customised Dutch street organs. His music tends to be either celebratory and bright, consciously in opposition to the world in which it's written, or manic, detailed, and violent in response to the poverty and politics of our time. Earlier, we'll hear pianist Ben Powell and percussionist Tim Williams premiere a playful piece by Birmingham-based composer Ryan Latimer, whose music was described as "Anarchic and cartoonishly fun" by BBC Radio 3.
We also look forward to the "cardiac flows" of Manchester-based composer Athanasia Kontou's systole/diastole, ahead of a lovely work by celebrated Welsh composer Bethan Morgan-Williams. Inspired by Plato's Disco, a sculpture by David Batchelor, Traces of a Disco explores gradual shifts in colour, luminance, sensation and awareness. It was premiered by Psappha to a great reception at The Whitworth three years ago.
Finally, Psappha's Benedict Holland will tackle Helmut Lachenmann's taut and edgy Toccatina for solo violin. The German composer's music is often dubbed 'instrumental musique concrète', owing to similarities with electro-acoustic composer Pierre Schaeffer's mid 20th Century music which utilised recorded sounds as raw material (a technique known as 'musique concrete'). Written in 1986, Toccatina focusses on subtle transformations of timbre, and explores the continuum from pitched sound to textural noise. A variety of special techniques will be on show, with Holland exploring every inch of his violin, from the bridge to the tuning pegs to the scroll.
It's an excellent programme, which will shine brightly in the hands of Miloš Milivojević and Psappha. Tom McKinney joins the musicians to present this concert, for which Psappha will welcome a physical audience back to Hallé St Peter's.