Psappha: Black Milk livestreamed from Hallé St Peter's
Johnny James, Managing Editor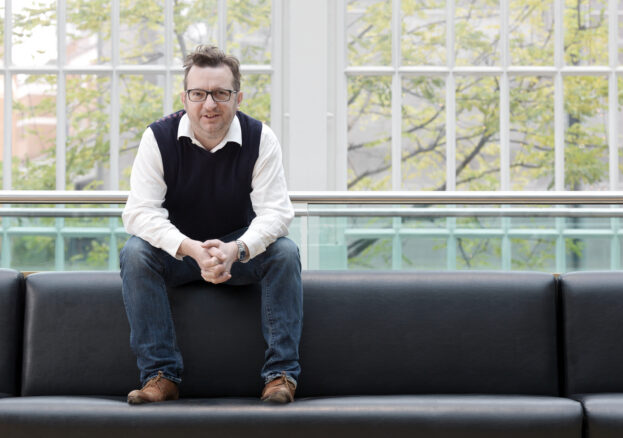 Matthew Grouse Wood.pulse
Varèse Octandre (8 mins)
Mark-Anthony Turnage Black Milk World premiere, Psappha commission
Lisa Illean Januaries
Grace-Evangeline Mason Glass Cathedrals
Gavin Higgins Dance Suite
Black Milk is set to be a highlight of Psappha's livestreamed 2020-21 season. At Hallé St Peter's, the contemporary classical ensemble will tackle a thrilling programme of music including a world premiere by Psappha patron Mark-Anthony Turnage, a singular work by Edgard Varèse plus several pieces by exciting young composers.
The centrepiece of the concert is a major new work by one of our country's greatest living composers, Mark-Anthony Turnage. Renowned for his unique synthesis of popular and 'serious' culture, the Essex-born composer's orchestral and operatic music is often forthright and confrontational, unafraid to mirror the realities of modern life, while exuding exhilarating energy. Commissioned by Psappha and written for internationally-acclaimed jazz singer Ian Shaw and a 16-strong ensemble, Black Milk receives its world premiere exactly 12 months after its first planned performance fell victim to the coronavirus. We've a feeling this will be well worth waiting for…
We also look forward to Edgard Varèse's vibrant Octandre (1923), which is full of different moods and colours. Notably, it's the only work by the French-born composer that does not feature percussion. Instead, Varèse gives those percussive duties to the winds, brass and double bass, who at times articulate nervous rhythmic motifs and at others take on a pounding, weapon-like character.
Fast-forwarding to the present day, we'll hear two works written as part of Psappha's 'Composing For' scheme. Grace-Evangeline Mason has written a hauntingly tender piece for solo harp: Glass Cathedrals. Inspired by the conceptual image of a grand cathedral constructed entirely of glass, the work aims to "capture a moment of fleeting, temporary splendour before its great and expectedly enduring structure shatters". Yorkshire composer Matthew Grouse's wood.pulse, meanwhile, is an invigorating bassoon solo focussed on gradually evolving, propulsive rhythmic patterns and timbral exploration. Intriguingly, Grouse draws influence from electronic music, writing his parts as if they were being processed by filters and layered with modulation effects.
Two further recent works feature. Lisa Illean is a composer of acoustic and acousmatic music, based in London. Her music has been described as "exquisitely quiet shadows shaded with microtunings" (The Sydney Morning Herald) and "a compelling exercise in stillness and quietude" (The Australian). The piece we'll hear tonight –  Januaries – pays fragile, haunting homage to Lisa's native Queensland. London-based Gavin Higgins, meanwhile has been described as 'boldly imaginative' (The Times) and 'a talent to watch' (New York Times). There are echoes of Stravinsky in his sparkling Dance Suite, a crackpot kaleidoscope of transatlantic jazz colours and rhythms.
This typically varied, typically thrilling concert promises to be a highlight of Psappha's 2020-21 season. Watch live on YouTube in the company of presenter Tom McKinney – or catch up on demand any time for a week after the livestream.