Pixies at The Piece Hall
Johnny James, Managing Editor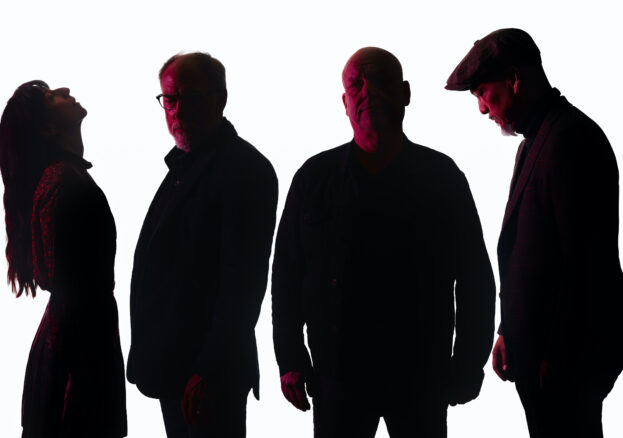 Legendary Boston band Pixies are performing a one-off show at Halifax's glorious Piece Hall this summer.
Key figures of the late 80s alt/rock movement, Pixies blazed the trail for everyone from Pearl Jam to Nirvana to Radiohead. Recorded in just 10 days at the end of 1987, the band's ferocious debut album Surfa Rosa introduced the world to their iconic 'loudquietloud' sound, with Kim Deal's basslines serving as cool counterpoint to Black Francis's maniacal vocals and Joey Santiago's flesh-searing guitars.
A year later, the exotic gristle of Doolittle made a mockery the 'difficult second album'. Across iconic tracks like 'Debaser' and 'Hey' the band tempered their perverse humour and oddball experimentalism with enough pop hooks to secure mainstream appeal. David Bowie echoed the general sentiment when he called Doolittle "the most compelling music outside of Sonic Youth made in the entire 80s".
Two more great albums (Bossanova in 1990, Trompe le Monde in 1991), followed before Pixies disbanded in 1993. The odd reunion tour aside, it would be two decades before fans got what they really wanted: new music, albeit minus Kim Deal, who left the band six days into the recording of 2014's understated and, let's be honest, slightly underwhelming Indie Cindy.
Bassist Paz Lenchantin, who went on the road with the band in 2014, became Pixies' permanent bassist in 2016, ahead of two more studio albums: Head Carrier and Beneath the Eyrie, the latter twisting something gothy and theatrical into the classic formula.
In June 2022, the band announced their latest album, Doggerel, billed as "a mature yet visceral record of gruesome folk, ballroom pop and brutal rock, haunted by the ghosts of affairs and indulgences, driven wild by cosmic forces and envisioning digital afterlives where no God has provided one. And all the while, right there on the news, another distant storm approaches."
The album's excellent, prowling first single, 'There's A Moon On', fits into the space between prototype squalling Pixies guitars and rock classicism. Its follow-up, 'Vault of Heaven', leans into brooding Morricone-style desert rock, Pixified with absurdist lyrics. But there's also a ferocious edge to the record, one that feeds into the grinding intensity and surrealism of 'Nomatterday' and The Who-like power of 'Dregs of the Wine', surely the first and last Pixies song to namecheck Van Halen.
Doggerel's ferociousness is more than matched by the band's current live show. We were lucky enough to catch their intimate Band on the Wall gig last year and, well, it was right up there. The band's perverse magic is as alive as ever, and their classic tracks still sound vital, defiant, ageless. If you've never seen Pixies live, there are few better venues for your maiden voyage than Halifax's beautiful Piece Hall.