Phantom of the Paradise at Showroom Workstation
Tom Grieve, Cinema Editor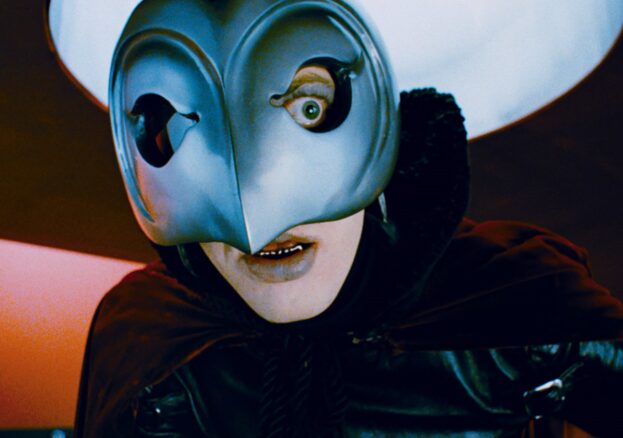 Even within the wild lands of director Brian De Palma's filmography, Phantom of the Paradise emerges as a batshit peak. The filmmaker has re-vamped and ramped-up Hitchcock with Body Double and Dressed to Kill. He made Stephen King's Carrie vivid, haunting and cinematic. With Mission Impossible he took the spy genre and allowed it to reach a dizzying logical extreme of crosses and double crosses, kick-starting a blockbuster franchise along the way. But his blistering update of Phantom of the Opera stands apart, a howling tragedy and a monumental rock musical that counts Edgar Wright and Guillermo Del Toro amongst its mega-fans.
The music comes from Paul Willams, who also stars as Swan, an evil record producer and industry titan looking for a new act to open his new concert hall, "The Paradise." William Finley is Winslow Leach, a genius composer who the producer robs of his music and sends to Sing Sing Prison, where he is disfigured in successful jailbreak. Meanwhile, Jessica Harper is Phoenix, an aspiring singer chosen by Swan to perform Winslow's music at the opening of The Paradise.
In addition to Phantom of the Opera, De Palma borrows from Faust, and nods towards cinema classics such as Psycho and The Cabinet of Dr. Caligari. Left unable to speak, with an owl-like helmet to cover his scarred face, Winslow makes pact with Swan in order to restore his singing voice, as he dedicates himself to writing for Phoenix. The classical story strands are welded to kitsch costuming, heightened performances and gory horror elements. The film could very well have been disastrous, but De Palma, buoyed by Williams' terrific music, walks a tightrope of tones. The result is a grand, painful tragedy, with disparate elements welded together Frankenstein-style into one of the most singular, entertaining films to emerge from seventies Hollywood.