Peter Barlow's Cigarette #30 at Gullivers
Sarah-Clare Conlon, Literature Editor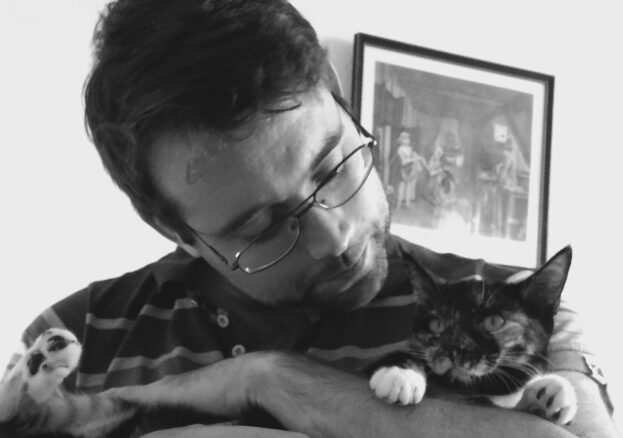 Last seen sponsoring a section of the Poetry Emergency Festival, CT's favourite 'afternoon of alternative poetries' kicks off 2019 with Peter Barlow's Cigarette #30. Having previously held open mic fundraisers at Gullivers, the organising team – Rachel Sills, Tim Allen and Joey Frances (who can also be seen here on 17 January launching the pamphlet cash/sex, co-scribed by Bryony Bates and out with Generic Greeting Collective) – have brought PBC back to the Northern Quarter following a stint at Waterstones last year.
Now one of Manchester's longest-standing regular avant-garde poetry reading series, Peter Barlow's Cigarette has been providing a platform for innovative and exciting poetry from the UK and beyond for a number of years, and this month is no exception, welcoming a mega line-up of four poets – Dan Eltringham, Ágnes Lehóczky, Denise Riley and Gareth Twose – three of whom are here from out of town, so definitely worth popping in for.
Dan Eltringham is a poet and academic, who co-edited The Literateur online arts journal and, since moving to Sheffield, has been editing Route 57, the University of Sheffield's creative writing journal, and co-editing Girasol Press. He also co-runs the reading series Electric Arc Furnace, which comes highly recommended, and his work has been published by Zarf, Blackbox Manifold, Datableed, Cumulus, Plumwood Mountain and Colorado Review. His collection Cairn Almanac came out with Hesterglock Press in 2017 and his poetry and translations appeared in last year's Boiler House Press anthologies Wretched Strangers: borders movement homes and The World Speaking Back…To Denise Riley.
Rescheduled from a PBC last year, Ágnes Lehóczky is Senior Lecturer in Creative Writing at the University of Sheffield, where she is co-director of the Centre for Poetry and Poetics. Originally hailing from Hungary, her first poetry collection, Budapest To Babel, came out in 2008, and she has followed that up with Rememberer (Egg Box, 2012), Carillonneur (Shearsman, 2014), Pool Epitaphs And Other Love Letters (Boiler House Press, 2017) and Swimming Pool (Shearsman, 2017). In 2011, she won the Jane Martin Prize for Poetry at Girton College, Cambridge, and published a collection of essays, Poetry, The Geometry Of The Living Substance. She co-edited Sheffield Anthology with Adam Piette and, last year, Boiler House Press anthologies Wretched Strangers, with JT Welsch, and, with Zoë Skoulding, The World Speaking Back…To Denise Riley.
Talking of whom, Denise Riley lives in London and is one of our major poets and foremost philosophers. She has published a number of books, and her poetry collections include Marxism For Infants (1977), Dry Air (1985), Mop Mop Georgette (1993), Penguin Modern Poets series 2, vol 10 (with Douglas Oliver and Iain Sinclair, 1996), Selected Poems (2000), Say Something Back (2016) and Penguin Modern Poets series 3, vol 6 (with Maggie Nelson and Claudia Rankine, 2017). The World Speaking Back…To Denise Riley was compiled to coincide with her 70th birthday, bringing together pieces by 94 contributors to celebrate her life and work.
Former co-organiser of Peter Barlow's Cigarette and 2012's Manchester Poets For Pussy Riot, Gareth Twose now runs Manchester-based writing workshop Writers' Forum North. His first chapbook, Top Ten Tyres, was published by Red Ceilings Press in 2013, with a second book, Sven Types Of Terrorism, published by Knives, Forks and Spoons in 2016. His latest book, Psychodography, is out with Leafe Press.